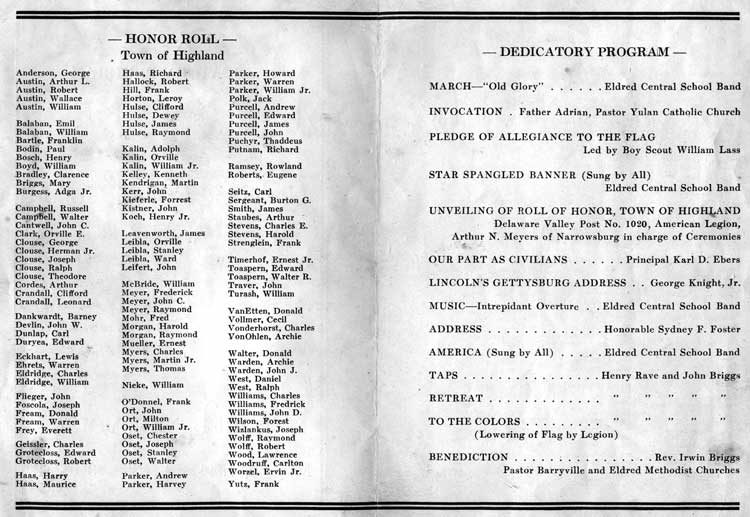 I have recently pulled together the diaries and letters from 1942 to 1945, to form the skeleton of the text for the years of WWII. The following is a list of the Service men and women that I gleaned from 4 sources, including the Honor Roll Program shown above.
If anyone has name corrections or additions, please leave them either in the comment section or email me: info (at) halfwaybrook (dot) com. Note: Those listed with the same last name are not necessarily related.
Also if someone listed is your relative and you know the branch they served in, the country they were in, and the years they were in service, it'd be great to have that info, too. Thank you so much!
Anderson, George
Austin, Arthur L., Robert C., Wallace, William
Balaban, Emil, William
Bartle, Franklin
Bodin, Paul
Bosch, Henry
Boyd, William
Bradley, Clarence
Briggs, Mary
Burgess, Adga Jr.
Campbell, Russell, Walter
Cantwell, John C.
Clark, Orville
Clouse, George, Herman Jr., Joseph, Ralph, Theodore
Cordes, Arthur
Crandall, Clifford, Leonard
Dankwardt, Barney
Devlin, John W.
Dunlap, Carl
Duryea, Edward
Eckhart, Lewis
Ehrets, Warren
Eldridge, Charles, William
Fleiger, John
Fream, Donald, Warren
Frey, Everett
Foscola, Joseph
Geissler, Charles
Grotecloss, Edward, Robert
Haas, Harry, Maurice, Richard
Hallock, Gene, Robert
Hill, Frank
Horton, LeRoy
Hulse, Clifford, Dewey, James, Raymond
Kalin, Adolph, Orville, William Jr.
Kelley, Kenneth
Kendrigan, Martin
Kerr, John
Kieferle, Forrest
Kistner, John, Rudolph
Koch, Henry Jr.
Leavenworth, James
Liebla, Orville, Sylvan, Ward Liebla
Liefert, John
McBride, William
Meyer, Frederick, John C., Raymond
Mohr, Frederick
Morgan, Harold, Raymond
Mueller, Ernest
Myers, Charles, Martin Myers Jr., Norman H., Thomas Myers
Nieke, William
O'Donnel, Frank
Ort, John, Milton, William Jr.
Oset, Chester, Joseph, Stanley, Walter
Parker, Andrew, Harvey, Howard, Warren, William
Polk, Jack
Purcell, Andrew, Edward, James, John
Putnam, Richard
Puycher, Thaddeus
Ramsey, Rowland
Roberts, Eugene
Schaffer, William
Seitz, Carl
Sergeant, Burton
Smith, James
Staubes, Arthur, Charles E.
Stevens, Charles, Harold
Strenglein, Frank
Sulzbach, Clifford
Timmeroff Jr., Ernest
Toaspern, Edward, Walter R.
Traver, John
Turash, William
Van Etten, Donald
Vollmer, Cecil
Von Ohlen, Archie
Vonderhorst, Charles
Walters, Donald
Warden, Archie, Ian, John Jr.
Weber, Arthur, Lewis
West, Daniel, Ralph West
Williams, Charles, Francis, Frederick, John Williams
Wilson, Forrest
Wizlankus, Joseph
Wood, Lawrence
Woodruff, Carlton
Wolff, Raymond, Robert
Worzel, Irving
Yutz, Frank