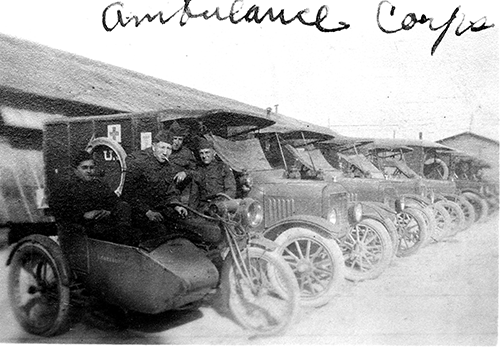 My grandfather Irwin Briggs, a medic, went to the front lines to get the wounded and the dying during the St. Mihiel battle. He would also help at the next major battle, the Meuse-Argonne. This is a photo of some of the ambulances in his group. McKinley Austin's outfit was in the same area of France.
St. Mihiel, Sept. 12–19, 1918
Our [11th Infantry, McKinley Austin's group] barrage started at 1 a.m. on September 12. The regiment got in position for jumping off at 4:30 a.m., and the attack started at 5 a.m.
The Division Front was held by 10th Brigade. The 11th Infantry was on the right, the 6th Infantry was on the left, each regiment had one battalion in the front line. The 357 Infantry (90th Division) was on our right.
The 3rd Battalion, an assault battalion, followed and then 2nd Battalion Regiment reached all objectives on scheduled time, taking 100s of prisoners…
On September 13, a short, but fierce counter attack of the enemy was broken up by the regiment. About midnight September 15, the regiment relieved by 61st Infantry, moved into an intermediate position and remained there until September 16.—Sergeant John G. Popp.
The French Renault tanks designed to cross 6-foot trenches in dry weather, had to navigate trenches 8 feet deep and 10 to 14 feet wide "in horrible mud."