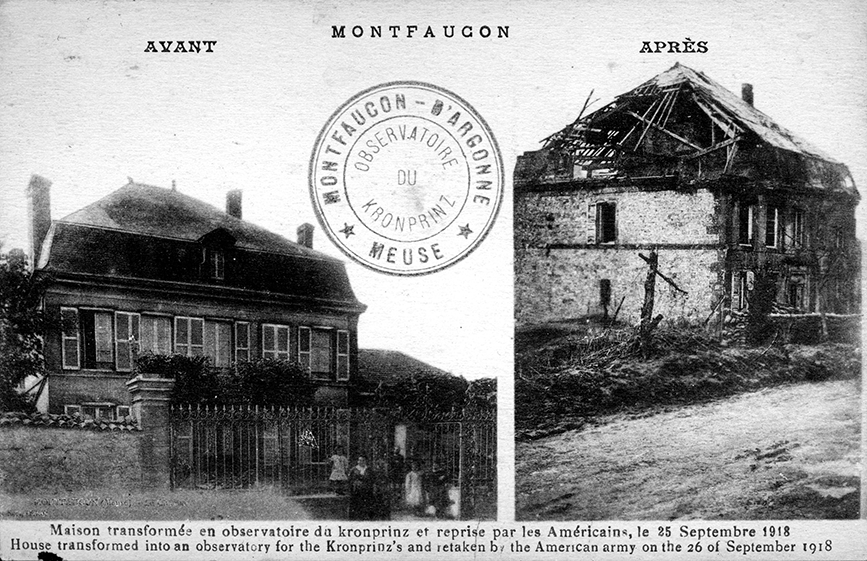 Montfaucon, France, October 12 and 13, 1918
McKinley's outfit arrived in the vicinity of Montfaucon on October 12.
They suffered casualties as a result of heavy shelling from enemy guns the next day. The 11th Infantry took up a position around Ferme de la Madeleine that evening, the night of October 13.
Battle of Romagne-sous-Montfaucon, France, October 14–17, 1918
At the Battle of Romagne-sous-Montfaucon (October 14–17), the Americans launched a series of costly frontal assaults that finally broke through the main German defences of the Hindenburg Line.
The enemy waiting until the forward movement is commenced, throws down a terrific barrage upon our front so that the division going 'over the top' at daylight (October 14th) with the 9th Brigade (60th and 61st Infantry) on the right, and the 10th brigade, 6th and 11th Infantry on the left, is immediately plunged into a perfect storm of shell fire which inflicts heavy casualties in its ranks at the very outset of the advance.—Moss and Howland, p. 287.