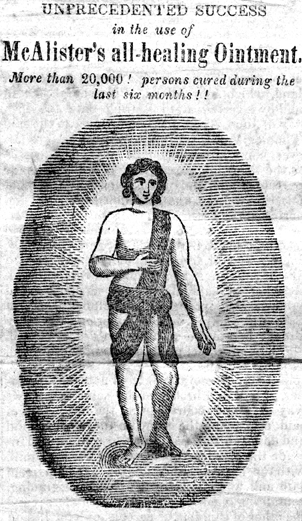 The oldest letter in the family collection was from my great-grandmother Mary Ann Eldred in 1845. It is excerpted below.
Included in the old letters was an 1845 newspaper clipping about a mortgage sale for land of Abraham Mulford Eldred that was sent to James Eldred from Orange County, NY. On the back of the newspaper clipping was an ad for Mc Alisters All-Healing Salve that Mary Ann talked about in her letter. Mary Ann was staying at her sister's home in Middletown, Orange County, NY.
Middletown, June 19, 1845
Mr. James Eldred, Lumberland
Dear Parents,
Yours, dated June 13, came to hand June 15. I perused its contents with pleasure and I was happy indeed to hear from you both. I attend school every day regular when I am well.
I have lost eight days on account of my being sick with the hives. I caught a bad cold and then was sick to my stomach. I purchased me a box of McAlister All-Healing Salve and think it has helped me.
I am quite well at present and hope these few imperfect lines will find you enjoying the same blessings…
At the top of the McAllister Ad was this Milliner Ad.