The Martin D. Myers family settled east of the Austin property, underneath Hagan Pond's thumb, but on the south side of Hagan Pond Road, close to Collins Road.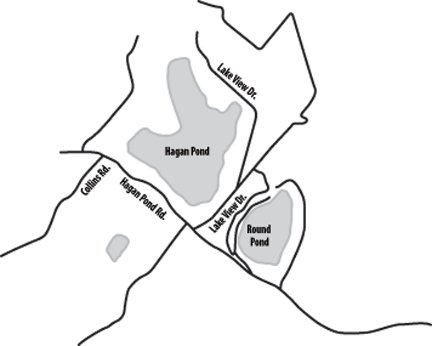 Map showing Hagan Pond (Highland Lake) and Round Pond (Lake DeVenoge). Halfway Brook Village (Eldred) was to the west. Map drawn by Gary Smith.
Chapter 7 in The Mill on Halfway Brook covers the years 1851 to 1860 and the arrival of my Myers and Van Pelt relatives from New York City who settled near Hagan Pond. The following photos of Hagan Pond or Highland Lake as it is called today) are courtesy of my cousin Cynthia.