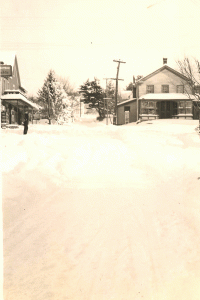 February 1941
In Eldred Aida shoveled the paths on Saturday, February 1. The snow had drifted them full. She checked to see if anyone had been around to Mrs. Schroeder's house.
Lon (Aida's brother) didn't feel well enough to go to the Village on Saturday.
Monday afternoon Bob Austin visited his aunt Aida. He had arrived home Saturday morning for a two-week furlough from his camp in Canada on Friday.
Monday in west Eldred, Garfield worked for Alvah Sergeant; Jim at Narrowsburg Lumber. Lee Hansen left for Maryland to see about work.
Tuesday was very cold. Lon went to see Harry Wormuth about getting wood, but decided to get coal. Young Hallock and another man stopped by Aida's with Watkins' goods.
Wednesday Lon shoveled out the lane so the truck could get in with the coal. Alfred Hill went through with a load of hay. Aida went to Andrew's and the A&P.
Thursday was cold and clear. It was raining Friday when Morgan delivered the coal to Aida's.
Saturday was very cold with the benefit of it also being icy. Lon slid to the Village, but Aida didn't go because it was so slippery.
Sunday, February 9, Lon preached for Mr. Briggs, as Mr. Briggs was sick. But Lon got sick in Sunday School.
Alfred, Bessie, and their children Billy and Joan took soup over to Lon. So did Alvin (Alfred's twin brother) and his wife Harriet. Arthur also checked on Lon.
Monday Aida was down to the A&P. Paul Knorr drove her home. Lon went up to see Bill and Arthur before Bob went to visit their brother Raymond and his family in Staten Island.
Tuesday Bill drove Bob to Shohola and dropped Aida off at the Post Office.
"Bob rather hated to go. He will stay with Raymond tomorrow and the next day take a bus from New York City to Scranton on his way back to camp. Has to be there Saturday 8 a.m.," Aida recorded.
Wednesday Aida went to her friend Mae's. Thursday Lon was to the Village. Aida read and slept pretty much all day.
Friday was cold and windy. Margie Bosch must have picked up some items for Lon and Aida as she stopped by to give them the cost of meat and other things.
Saturday afternoon Lon was once again at the Village. Margie Bosch took a piece of her birthday cake to Aida and Lon.
It was quite snowy in Eldred on Monday. Tuesday was terribly cold and windy. Aida was able to ride to the A&P with Mary Bosch.
Wednesday was cold and windy. Jim Leavenworth was up to the Stege property.
Thursday Harold Frint braved the very cold, windy weather to ask how Lon was and give Aida some papers from Mae. Friday Arthur helped Alfred Hill draw two loads of hay from Ed Myers' to the small barn on Mort's place.
Friday and Saturday Jim went to Narrowsburg and to his sister Anna's.
Aida didn't let the very cold Monday (24th) keep her from getting the oil she needed at the garage.
Tuesday was warmer and Aida let the fire go out in the night. It was very cold when she got up between six and seven.
Lon took his daily jaunt to the Village to get bread and butter on a terribly cold Wednesday. On a blustery, cold Friday afternoon (snow squalls) Aida went to Mary's and then rode to the A&P with Mrs. William Clouse.