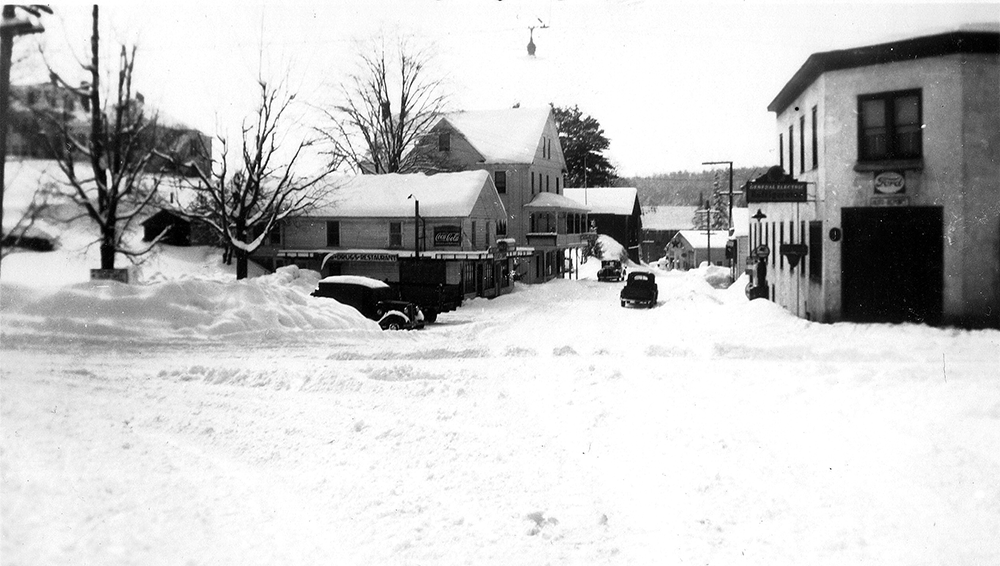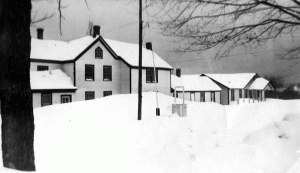 Wednesday, January 24, when it was snowing and blowing most of the day, Ella started a Lucky Star tablecloth for Eleanor Bosch. Austin Smith and his son Dale visited the Leavenworths.
Thursday it was 10 below zero in Eldred; and negative 26 at Highland Lake.
The terrible cold and snowy winter weather was referred to in a letter of Charlie Bosch and later in a letter of my dad Arthur Austin.
Charlie Bosch was practically snowed in at Highland Lake when he wrote his grandson Billy Bosch a lively letter at the end of January.
Charlie Bosch, Highland Lake, 
to Willie Bosch, Queens, N.Y.
Sunday, January 28, 1945
Dear Little Billy, Mom, and Pop,
Just now it's all snow at Green Acres [later called Green Meadows on Highland Lake] and 27 to 25 below. You sure couldn't stand it as it is so cold.
We have to stay in the house and keep the stove red hot. It's so cold the Rabvards [Billy's pronunciation of "rabbits"] won't come from under the porch. 
I feed them cabbage and frozen apples and rye bread…
There's so much snow—4 feet in the woods, 30 inches on the fields.
It's sure hard on the deer and the Mud Pond pickerel must be very near starved. Nobody is fishing there. I am now staying alone at the big house; just Pippin [his dog] and I. Of course I have plenty to eat and good firewood. I just stay inside and take it easy.
I have enough wood in and by the house for a long time; enough groceries for six weeks or more. Have everything but bacon. I have pork chops, liverwurst, noodles, pancakes, and plenty of canned stuff in the cellar; and beans, cabbage, and carrots to make soup. (Seven inches of snow last night.)
Your Grandpopper, X X X
M.Sgt. A. Austin, Hdq.Co., AA, N.Y., to Lon Austin, Eldred
April 8, 1945
Dear Uncle Lon,
Was glad to hear from you and to learn how well you have come through the winter both physically and financially. It certainly must have been quite a storm. In a way am sorry to have missed it as 1945 has undoubtedly made history as far as Winters are concerned.
Saw Bill a while ago and he is out of the hospital but is not sure where he will be assigned. I hope it will not be to an infantry outfit.
At last it really looks as though this war will end shortly. In any case I have good prospects of getting home this summer perhaps for longer than I expected.
However imagine most of us will see service in the Pacific before the war with Japan ends…
Hope you and aunt Aida have kept well and to hear from you again soon. Your nephew, Art