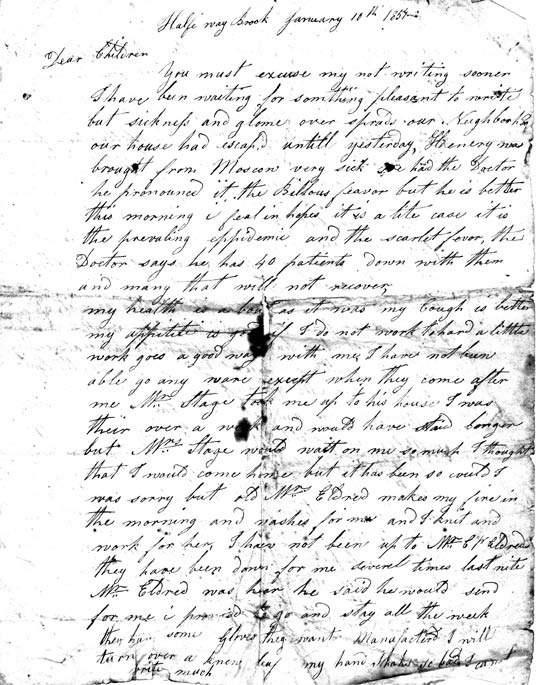 Page one of my great-great-grandmother Fanny Knapp Austin's letter, courtesy of my cousin Melva. An Excerpt of the letter follows.
Halfeway Brook
January 11, 1857
Dear Children,
You must excuse my not writing sooner. I have been waiting for something pleasant to write but sicknefs and glome over spreads our Neighborhood. Our house had escaped untill yesterday, Henry was brought from Moscow very sick…had the Doctor. He pronounced it the Billous feavor, but he is better this morning. I feal in hopes it is a lite case. It is the prevaling eppidemic and the scarlet fevor. The Doctor says he has 40 patients down with them and many that will not recover.
My health is about as it was. My cough is better, my appitite is good if I do not work to hard. A little work goes a good way with me. I have not been able (to) go any more except when they come after me. Mr. Stage took me up to his house. I was there over a week and would have stayed longer, but Mrs. Stage would wait on me so much I thought that I would come home, but it has been so cold. I was sorry but Old Mrs. Eldred makes my fire in the morning and washes for me and I knit and work for her. I have not been up to Mr. C P Eldreds. They have been down for me several times. Last nite, Mr. Eldred was here. He said he would send for me. I promised to go and stay all the week. They have some gloves they want manufactured. I will turn over a new leaf. My hand shakes so bad I can not write much.
I had a verry plesent New year to Mr. Stages. We had good vituals and good company. George was home and Albert. They inquired after you and Lucy? George said I must give his compliments and best respects to you both. Albert said he would rather fetch them himslefe. Mrs. Stage said you promised to write to her.