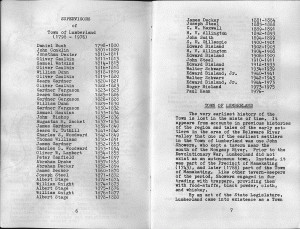 In my mother's super collection was a Lumberland Centennial booklet, which includes a list of Lumberland Town supervisors from 1798 to 1976. (Click on the image to read.) There are more familiar names in this 1840 census, including Johnston, writer of Reminiscences (which often includes his scathing and judgmental descriptions of the town's inhabitants); Daniel Van Tuyl; Jacob Stage; my relatives: Fanny Austin and her son's family Augustus Alonzo Austin; and Abraham Ingersoll, whose wife will eventually be the subject of a post.
Again, some of the names are difficult to discern, in some cases they were left out altogether.
Thomas Billings
Chauncy Thomas
James Dandridge
Isaac Young
Robert Johnston
Calvin P. Fuller
J.W. Johnston
Jane Johnston
Abraham Ingersoll male 1 under 5 1 30 to 29; female 2 under 5 1 20 to 29
Gardner Ferguson
Daniel Van Tuyl
Joseph Nelsen?
Edward Childs
Samuel Anderson
John Setsin?
Herny P. Lupton
John Canfield
Iser Rike
George Merrien?
Hiram Quick
Samuel De Will
Jacob Stage
Barney McConnel
Elijah Quick
Joseph Conon
James Hooker
William Craig
Phillip Decker
Oliver Lambert
John Van Tuyl
Alfred Van Tuyl
John Lovel?
Hezekiah Bunce
Sherman Leavenworth
Jonathan Lily
William Myers
Moses ?
Alfred Hartuth?
Allen Carmichael
William Tuthill
David Young
John Owen
Alexander Carmichael
John Lucky
John Myers
Daniel Cornwall
Augustus Austin 2002110100000 female 400001
William Hawkins
Samuel Rundell
William ?
Justice Heacock
DEK Perkins
Thomas R. Ridgeway
Widow Bennet
John Homck
David Johnson
Job Rider
Elnathan Corey
Herman Benedick
James H. Muar?
William Hills
Daniel Shinover?
Asa Middaugh
Clark Conin?
B. Angel
William M.?
Jacob Labarr
Aaron Hillman?
Charls L. Woodward
Norman Darling
John Litts
Henry L. West
Samuel West
John Williams
William Daily
Obadiah Camet?
Jacob Banner
David Smith
Daniel Roberts
Hezekiah Coby
M. Stigarey
Oliver Decker
Henry Crawford
Thomas Darling
Haley Barnes
Squire Plumb
N.G. Johnson
Patrick Nevil
John Carpenter
? Gardner
? Garnder
James K. Gardner
Jeremiah ?
John W. Wells
Daniel D. Racine?
Thomas H.
Robert Mapes
Andrew Crawford
Flix Kite
Francis? Eldred
Philemon Way
Fanny Austin female: 1 age 5 to 9; 1 age 10 to 14; 1 age 50 to 59
Abraham M. Eldred
Elizabeth Barber
Samuel K. Austin
Benjamin C. Austin
Henry Montgomery
Charles C.P. Eldred
Benjamin Williams
Thomas Pay
George K. Goldsmith
Samuel Wells
Daniel Wells
Alexander Carmichael
John Bishop
Joseph Carpenter
Nicholas Murphy
James L. Drake
Samuel Carpenter
Francis Kelly
John Drake
Patrick Smith
Richard Hull
Peter Smith
Gilbert Vail?
Joseph ?
Thomas Coleman
Gabriel Decker
Peter B. Decker
Solomong Middaugh
Samuel KnightDavid Wood
Jackson Knght
William Knight
Daniel Drake
Joseph Drake
Edward Buchanan
Peter Doolittle
William Covert?
Samuel Manning
Sears Tuthill
David W. Harwick
William Adams?
Adam White
William Dexter
Almon Lilie
Abraham Cuddeback
William Decker
Caleb Dixon?
C. Murry?
Thomas Allen
Sally Elder?
L. Mapes
Henry Hendrickson
Jacob Potter
Elias Calkins
Henry Hoffman
John Skinner
William Hocks
Samuel Hankins
Henry K?
Elisha Dailey
David Slater
Margaret Tuthill
Anson Dailey
Edward Cox
Margaret Hendrickson
William H. Mapes
David Smaller
Gilbert Mapes
Daniel Mapes
Johnathan Hanks
Widow Roberts
John L. Hendrickson
Samuel Hulse
W.W. Williams
William Huff
Gad? Elmore
Benjamin Davenport
James Sackett
George Steiner?
Thomas Miller
John Dalion?
Abraham Dunning
James Manny
Samuel M.
? Cole
John Hankins
James Hallock
Daniel Thomas
? Tyler
Y. Cole
Abner Lane?
James Adams?
Joseph Gear?