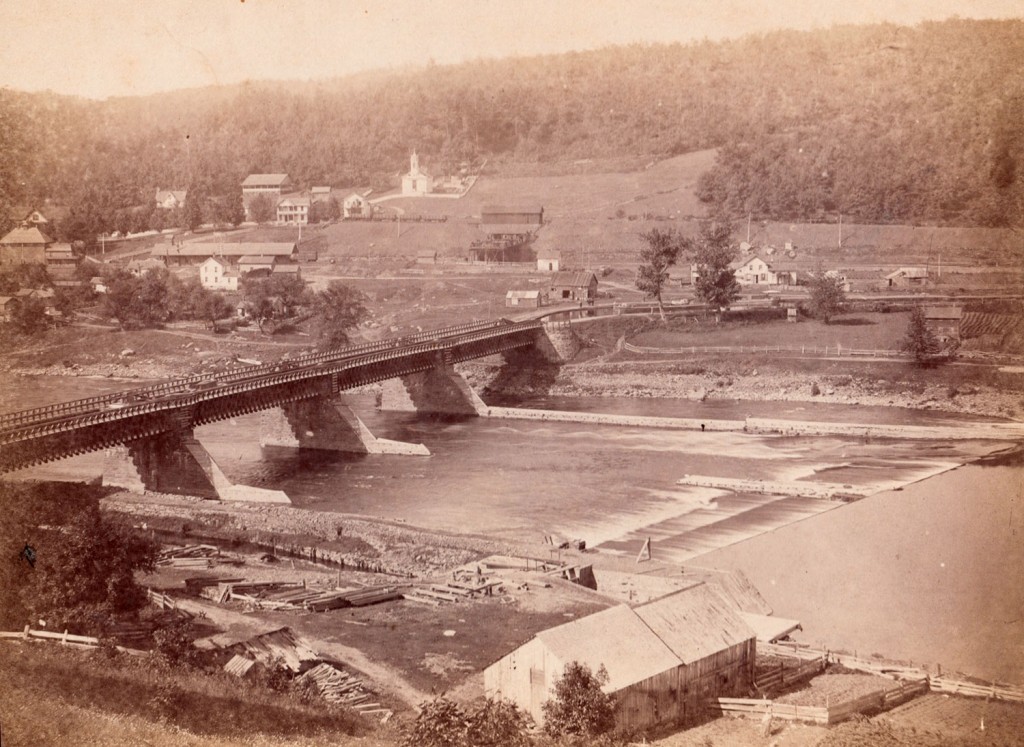 This photo shows the Roebling Aqueduct as well as the slack water dam. The slackwater dam (to the right of the Aqueduct in this photo) caused a 1-1/4 mile calm section in the river. The photo was taken around 1880 from the New York side of the Delaware River.
Slackwater Dam
A six-foot high slackwater dam existed below the confluence or juncture of the Lackawaxen and Delaware Rivers before the Roebling Aqueduct was built in 1847. The dam, which caused a calm section over a mile long, was raised to 16 feet after the Aqueduct was completed. The extra height was helpful for the canal, but treacherous for the lumber rafters.
When a raft went over the dam, the bow oarsmen disappeared from the stern oarsmen under a swirl of white water. Many rafts of lumber were lost on this section of the river, and the Delaware and Hudson paid the damages.
In an attempt to aid raftsmen, the D&H provided guides to lead rafts through this dangerous section, but this was not done without a payment to the canal company.
—Osterberg, Matthew, The Delaware and Hudson Canal and the
Gravity Railroad, p. 53.
Once over the Aqueduct, canal boats made a sharp right at Minisink Ford, New York, and went through Locks 72, 71, and 70 (some of the lock numbers have been changed). There were 16 locks before they reached Port Jervis.
I found several more old Roebling Bridge photos, but I'll save them for a later time.