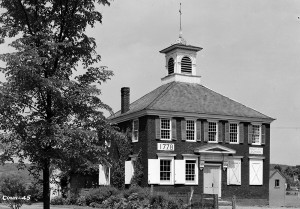 What does Bullet Hill School built in 1762 in what was at that time Woodbury, CT, have to do with Halfway Brook, you ask?
In 1769, David Hickok (who had attended Yale, though not completed a degree), mentioned in his diary that he was teaching at Bullet Hill School.
David was the oldest brother of Asa Hickok. In December 1777 Asa married Esther Hinman in Woodbury, Connecticut.
In 1811 Asa and Esther, my 3rd great-grandparents, arrived with their family in what was then Lumberland, NY. They settled two miles north of Barryville. The current Hickok Brook may have run through their property.
David and Abigail Johnson Hickok and their daughter Hannah
David Hickok and his wife Abigail Johnson were the parents of a daughter Hannah Haddassah Hickok. Hannah married Zephaniah H. Smith in 1786.
• Zephaniah and Hannah Haddassah Hickok Smith had five illustrious, amazing daughters. The two youngest daughters, Julia and Abby came to national notice in the 1870s.
Asa and Esther Hinman Hickok and their daughter Hannah
Asa and Esther Hickok's daughter Hannah Hickok (my great-great-grandmother), born in 1789, married James Eldred in what was Halfway Brook, Lumberland, Sullivan County, New York, in 1826.
• James and Hannah Hickok Eldred had one daughter, Mary Ann Eldred Austin, my great-grandmother. (James had children by his first wife who called Hannah, grandmother. )
Thanks to my second cousin Dot Hale and her niece Kathy, the 1855 to 1869 letters that Abby Haddassah Smith wrote my great-grandmother Mary Ann Eldred, have been preserved.
One letter indicates Abby and at least one sister visited Mary Ann Eldred Austin and her family in Halfway Brook, the summer of 1855.
I am currently researching for a book about the Hickok family of Ancient Woodbury, CT, which will include the letters of Abby H. Smith; and of course that favorite of all places, Halfway Brook—starting in 1811.