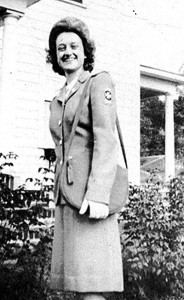 January 1, 1944, Italy
Arthur Austin, T/Sgt, 5th Army Headquarters, Italy, to Mary Briggs, Methodist Hospital, Brooklyn
Dear Mary,
Well, here it is New Year's Day and I think it a good idea to catch up on my correspondence…
Your very nice Christmas Card arrived shortly after Christmas. It is too bad that you were unable to be home for Christmas this year. (Or did things turn out better than you expected?)
This makes my third Christmas overseas, but, as I haven't a real home to return to, it does not matter quite so much in my case—still, it would be nice to spend a Christmas with my friends back in Eldred or with my brother and his family on Staten Island.
Well, rotation seems to be moving right along, and perhaps sometime during the next year I will have an opportunity to spend at least a month in the states…
Received last years' El Dorado [the Eldred Yearbook] about a month ago and of course was quick to note your picture among those of the Alumni in the service. Ella Getz's picture was also there and was surprised to learn a short while back that she is a nurse here in Italy…
Trust that even away from home you managed to have an enjoyable Christmas and New Year. Hope to hear from you again soon. Sincerely, Art
There were going to be some rough months ahead for Art and his brother Bob Austin who were both in Italy. Their brother Bill would soon arrive in North Africa. His outfit would train first in the Atlas Mountains of Algeria; then at the Invasion Training Center on the coast of the Mediterranean Sea. Bill would eventually be in Italy.
New York, January 8, 1944
In Islip on a cold Saturday, January 8, Anna ironed a big ironing. Her friend Lucy stopped by and they made plans to go to Bay Shore for glasses for Anna.
Sunday Anna wrote a long letter to her nephew Bill Austin.
On Sunday in Eldred, Walt Horton Sr., Anthony Hirsch, and Roy Horton stopped by the Leavenworth home. Friday, Cliff Myers called. Ella's letter from Jim mentioned he was in Scotland and had visited the Scottish relatives of his friend Ian Warden.
Sunday, January 16, Islip was covered with snow and sleet. Anna stayed indoors and studied the Federal tax which she thought looked easier than at first.
Thursday in Eldred, Ella and Garfield's telephone was installed. "We feel nearer our neighbors now," Ella wrote. Perhaps Ella called a few folks to come for a visit, as Saturday Clara and her family and Stella and her brother Orville Clark (home on furlough), stopped by.
Sunday, January 23, Clara Hansen got a piano from Lottie Meyers. Madelyn Meyers was in to visit Ella for a few minutes.
Tuesday Garfield and Earl Wells drew hay—one load for the Leavenworths and one for Goldie.
Earl Wells' daughter Dorothy wrote Jim and sent him a photo in March. Earl's daughter Berniece's future husband Harry Haas served in the Navy.
Tuesday Anna walked to the Islip Post Office and sent off her Federal taxes.
Thursday Jimmie Braddock the cat was in the "doghouse" in a big way. He had gotten into the pantry and stolen two big pieces of liver and also some liverwurst. He was put on a milk diet for his thievery!
Anna Meyers in Eldred started a diary in January. On Thursday she wrote, "Roy Horton going into Army in three weeks. Ray Hulse passed also. Alfred Hill deferred."
Friday Anna, Bill, and Jimmy Meyers; and Ella went to Honesdale. Anna and Ella had their eyes tested for glasses.