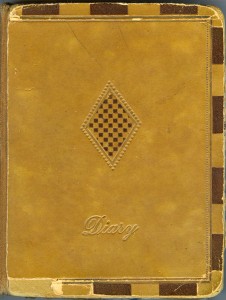 Ella Sergeant married James Garfield Leavenworth September 5, 1906. "Uncle" Garfield was the brother of Jennie Austin, my grandmother.
Fast forward to Christmas 1930 when Ella received a diary as a gift from her sister, Hazel. Inside the cover Hazel wrote:
Merry Christmas to Sister
May each line written in this book be a record of pleasant memories. Hazel
Ella Sergeant Leavenworth left a diary record of her life in Eldred for the next 19 years—1931 to 1950. I am indebted to her granddaughter Cynthia for transcribing a major portion of those diaries.
The daily accounts mentioned Ella's neighbors and relatives (or soon-to-become relatives); and fill in so much of the story in "Halfway Brook" for those years. People included:
Garfield's Austin Relatives
• Mort, Jennie, Raymond, Bill, Art, and Bob Austin.
Garfield's Leavenworth Relatives
• Charlotte, Martin, Truman, and Anna Leavenworth; Anthony Sr., Christina, Tony Jr., Charlee Hirsch.
Ella's Sergeant Relatives
• Luella and Everett Kelley; Frank and Raola Daiber and children: Frank and Lillian.
• Walter, Hazel, Marjorie, and Marion Connor.
• Unita Jane Sergeant Livingstone.
• Alvah, Mary, Charlie, and Grant Sergeant.
• Frank and Anna Hull Sergeant; Jennie Hull.
• Elizabeth Hoatson Clark Wilson.
• Georgia Styles.
• Ernest and Edith Sergeant Timmerhoff; children Charles and Betty.
• Alice Amelia Hill.
• Morgan Owen Sergeant.
• Thomas and Myrtle Labarr Hill and children: Thelma and Frank Hill.
• Edward and Kate Livingstone Kuen, Clareta and Helen Kuen.
• Archie and Minnie Sergeant Myers.
Garfield's Myers Relatives
• Charlie Myers and son Harold.
Jim Leavenworth's Friends
• Frank Bartle, Bobby Bosch, Vernon and Orville Clark, Ken Crandall Jr., Carl Dunlap, William and Charles Eldridge, Charles Foster, Robert Hanck, Holbrook boys, Hulse boys, Kenneth McBride, Nick Rohman (nephew of Art Rohman), Frances and Ed Toaspern, Herb and Bob Wolff.
Near Neighbors
• Erwin and Norah Bradley Avery, Doctor Gutfruend, Laura McBride, Meyers (Bill Sr., Lottie Scott Meyers, Bill Jr., Dorothy, Madelyn), Chester Middaugh.
Other Neighbors/Friends
• Claude Angell, Herman Bosch Sr. and Jr., Ed Bosch, Ralph Clouse, Comstocks, Ed Crail (boarder at Kelley's), Dorothy Dunlap, Charlie Dunlap, John Dunlap, Selma Dunlap, Jess Derheimer, Lewis Hazen, Chet Hulse, Maude Hulse (Duane's wife), Paul Knorr, Mr. Krause, Anna Kyte, Frank Kyte, John and Kate Love, MacIntyres, William McBride, Maria Myers, Mildred and Lynn Myers, Lena Myers (daughter of Jackson and Jessie Myers), Stan Myers, Henry Von Ohlen, Andrew Parker, Harvey Parker, Mr. Sidwell, Austin and Dorothy Kuen Smith, Ed and Mabel Smith, Walter Tether, Mr. Toaspern, Bertha Wilson, Alfred Wolff, Albert Wolff, Carl Wolff and sons Herb and Bob, Frank Wolff, Rev. Wood, Harry and Mary Kyte Wormuth.
Boy Scout Camp
• Elijah Moore; Ken Crandall, and Ken's brother Robert.