Joseph Maier kept records of the costs of rebuilding his Pine Grove Farm boarding house on Crawford Road. The cost of freight to Shohola, Pennsylvania, and the bridge toll was also added in. Mr. Maier first wrote for quotes on the cost.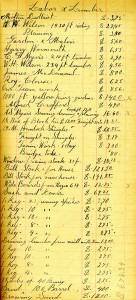 Joseph Maier, Eldred, to Andrew Paye
February 7, 1904
Dear Sir,
Will you please give me a price on 3,000 Shultz hard brick, the same kind I bought of you once before and the same kind you furnished W.F. Proctor a boat load.
The price is to be delivered to Shohola. You pay the freight. I will draw them myself from Shohola.
Give me your lowest cash price money ready when the brick arrives at Shohola.
Also, how soon could you get these brick for me.
The sooner the better. Let me know at once so I can give you the order if everything is OK, and oblige.
Yours respectfully, Joseph Maier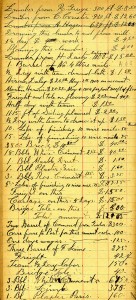 Joseph Maier, Eldred, to Robert A. Greig.
February 15, 1904
Dear Sir,
I write to you to come back. I wanted to see you in regards to some dry white pine lumber.
I want to commence to build, but I cannot as I have no dry boards. Could you let me have 2 or 3 thousand feet? I want some wide boards for Cornish casing and face boards. Please let me know if I could get the lumber right away.
I will get Mr. Daily or if you like your sister to count the lumber for you.
I want to take it to Mr. Daily to have it planed so I can use it at once. I could go up and get what I want and take it to the mill.
Let me know what your lowest cash price is per M, and I will pay you at once as I cannot commence to build until I get dry lumber.
So please be so kind as to answer this at once by return mail and oblige.
Yours Respectfully, Joseph Maier
Eldred, New York
December 21, 1903
Mr. Daily, Myers, Webber, Maney, Paye
Dear Sirs,
I herewith send you a bill for lumber on which I want you to give me your lowest cash price when it is delivered at my house. Give me a price per 1,000 feet, and how many 1,000 feet there are in this bill. Give me the number of feet in each stick and oblige.
This bill calls for yellow pine lumber. Price on same to be delivered at the house and what it would be at the mill if I decide to draw the lumber myself. Give your lowest price as this will be cash when the bill is sawed and drawn and how soon could you get this bill out for me? The sooner the better for me as I want to commence to build at once.
4 p. 8 × 8; 2-feet long
8 p. 8 × 8; 14-feet long
90 p. 2 × 8; 16-feet long
20 p. 2 × 8; 12-feet long
36 p. 2 × 6; 26-feet long
28 p. 2 × 5; 20-feet long
18 p. 2 × 5; 18-feet long
250 p. 2 × 4; 18-feet long
4,000 feet of sheathing
Respectfully yours, Joseph Maier