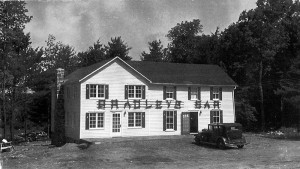 February 1940
Thursday, February 1, Ella wrote, "Children in except Stella. Oliver Dunlap called." Friday Jim visited Roy Horton in the evening.
Monday, February 5, Garfield put his sister Charlotte's wood in for her. Bill and Anna took Garfield to get the last of his teeth pulled on Wednesday. Bill and Anna each had a tooth filled. Lottie Meyers stopped by to see Ella for a second.
Friday the men stoned Garfield and Ella's well up to about five feet from the top. Sunday, February 11, Garfield visited Charlotte.
Monday Lee, Charlie Sergeant, and Garfield finished stoning the Leavenworth well; Lee worked some on his place; Anna and baby Jimmy visited Ella all day; Goldie stopped in; Jim worked at Wormuth's; and Ella found out that George Crandall (Jennie Crandall's husband) was in the hospital. What a day!
Tuesday Garfield and Lee laid out Lee's cellar lines. Mary Sergeant was there all day. Lottie Meyers visited in the afternoon.
The blizzard on Valentine's Day (which would have been Sherman Leavenworth's 97th birthday) had started raging early the previous evening. Bill Meyers Sr. and Jr. plowed, which was awful difficult. The blowing and drifting continued into the next day.
Thursday while Lee plowed snow, Clara and Ella pieced quilts; Jim went to visit his sister Anna.
Jim took milk to his sister Anna and Clara on Friday. Ella continued to work on quilts. Jim visited Orville Clark on Orville's birthday, Sunday, the 18th.
Monday Lee left around 4 p.m. for New York City to visit his folks in Brooklyn. Carl Wolff visited the Leavenworths that evening.
Wednesday Garfield started helping Bill Jr. with his new home. It was quite the fixer upper.
Thursday when Garfield helped Bill with his house, Grant Sergeant helped Lee with his cellar. Friday Garfield and Jim helped Bill. Grant and Lee worked on Lee's cellar drain. This continued for some time. At times Jim helped Bill; other times he worked at Lee's.
Saturday while Grant and Jim helped Lee dig his cellar and Garfield helped Bill with his house, Lottie Meyers stopped by to see Ella.
Wednesday, February 28, Goldie, Stella, and Bill Meyers stopped by the Leavenworths. The feed came and the meter man stopped by to read the meter. Ella got a letter from Raola. Jim helped Lee. Garfield helped Bill.
The Leavenworths had a number of callers on leap day—Lottie Meyers, Katherine Clouse, and Dot and Austin Smith.