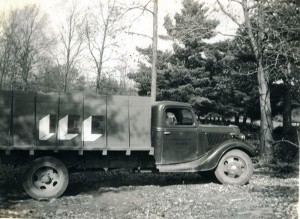 February 1939
Monday, February 6, Goldie worked for Mr. Tether cutting blocks of ice (icing) to put in the ice house.
Tuesday Anna and Bill became proud parents of James (Jimmy) Meyers. Wednesday Garfield and Ella went to see their first grandchild.
Thursday Jim Leavenworth visited his friend Orville Clark.
Saturday Frank Bartle enjoyed dinner with the Leavenworths. Goldie and Stella were in. Lee worked for Harry Wormuth.
Wednesday Anna was still in bed. Thursday and Friday Clara helped Anna. Thursday Lee worked on his place by Echo Hill, and at Harry's on Friday.
Sunday, February 19, when Garfield and Ella visited Alvah and Mary Sergeant, Garfield put Alvah's front room ceiling up. Lee and Clara visited Bill and Anna.
Monday, February 27, the meter man came—cost: $3.46.