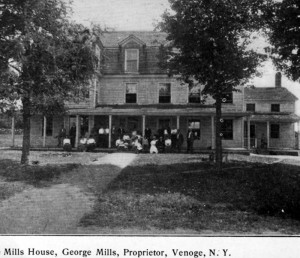 February 1937
Monday, February 1, Anna Leavenworth visited the Meyers.
Friday the Austins spent the evening at Garfield and Ella's. They stopped by a couple more times during the month.
Ella finished piecing Clara's log cabin quilt in February.
Garfield did a job for Emile Four one day. He repaired a guitar for Mr. Briggs (Irwin and Johnny stopped by to get it), and worked on a violin for Alexander Mills (a brother of Dr. George Mills).
Alex and George's grandfather had built the original Mills boarding house which Elizabeth Mills (their mother) still managed. Alex's wife Minnie was a daughter of Chris and Meta Meyer and had grown up in the Spring House in Barryville.