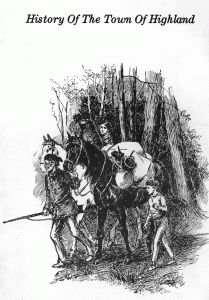 Charles Cotesworth Pickney (C.C.P.) Eldred Dies
In March 1890 Uncle C.C.P. Eldred, the brother of Mary Ann Eldred Austin, Eliza Eldred Gardner, and Maria Eldred Austin, died.
Charles Cotesworth Pinckney Eldred was seven when he arrived in Lumberland with his family at the end of 1815. They had settled in an old log cabin with a sawmill near Halfway Brook.
C.C.P. Eldred had joined the Congregational Church of Lumberland in March 1824.
He was very active in the work of the church and served as a deacon from 1849 until his death in 1890.
C.C.P. had also been Postmaster of Eldred for a number of years. He was responsible for renaming Halfway Brook Village when the U.S. Post Office required a shorter name.
So the charming, much preferred (to me, anyway) name of Halfway Brook Village became Eldred, named after C.C.P. Eldred's father, James Eldred, or named after C.C.P. himself—both stories are told.
In March, Charles C.C.P. Eldred died at his Eldred home after a three week illness. He was buried the following Wednesday in Highland Cemetery in Eldred.—The Port Jervis Union, March 12, 1890.
He [C.C.P. Eldred] was an honest industrious man of most excellent qualities which made him a great favorite in the community in which he lived.—The Evening Gazette, March 10, 1890.