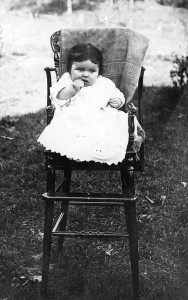 A New Sister for the Austin Boys
In March 1911 McKinley, Raymond, and Will Austin had a new sister—Elizabeth Austin. Mort and Jennie Austin, the happy parents, would have two more sons by 1915.
Mort and Jennie would say they had two families as there were 8 years between Will and Elizabeth.
John W. Johnston, Author, Dies
In March 1911 John W. Johnston died. He was the author of Reminiscences, the history of the Town of Highland.