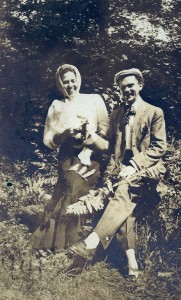 Jennie Crawford, Eldred, to Lillie Austin, Bethel
March 20, 1904
Dear Lillie,
George [Crandall, her future husband] has been away for 10 days. He is to Shohola today. It rains. The March wind is turning me green. I will be sorry when school ends. I'll have no money and will have to work like sin.
Now that I am trying to write, every kid asks a question. I have 27 here today so I can afford to write to you in school.
Don't criticize my spelling. I am trying to watch Charlie Rundle and Leo Morgan. They are cute kids.
What kind of truant officer have you? The one we have is worse than none. Well as you see I am laboring under difficulties. I will stop. Please come out. Jennie J. Crawford
Jennie Crawford, Eldred, to Lillie Austin
March 27, 1905
Dear Lillie,
I have just written to Nell. She has had the diphtheria. Gotlieb Metzger is dead. Frank Kelley has partial paralysis of the face.
Bertha Hulse has a young daughter. Lottie Scott is better.
Crandall's folks have sold their place. Mom washed today. Aunt Etta sprained her foot. I got my feet wet tonight coming up. With love, Jennie J. Crawford
Related posts:
Jennie Crawford, 1902
Lillie teaches in Cochecton
1903 Lillie Austin, teacher
1908 Cochecton