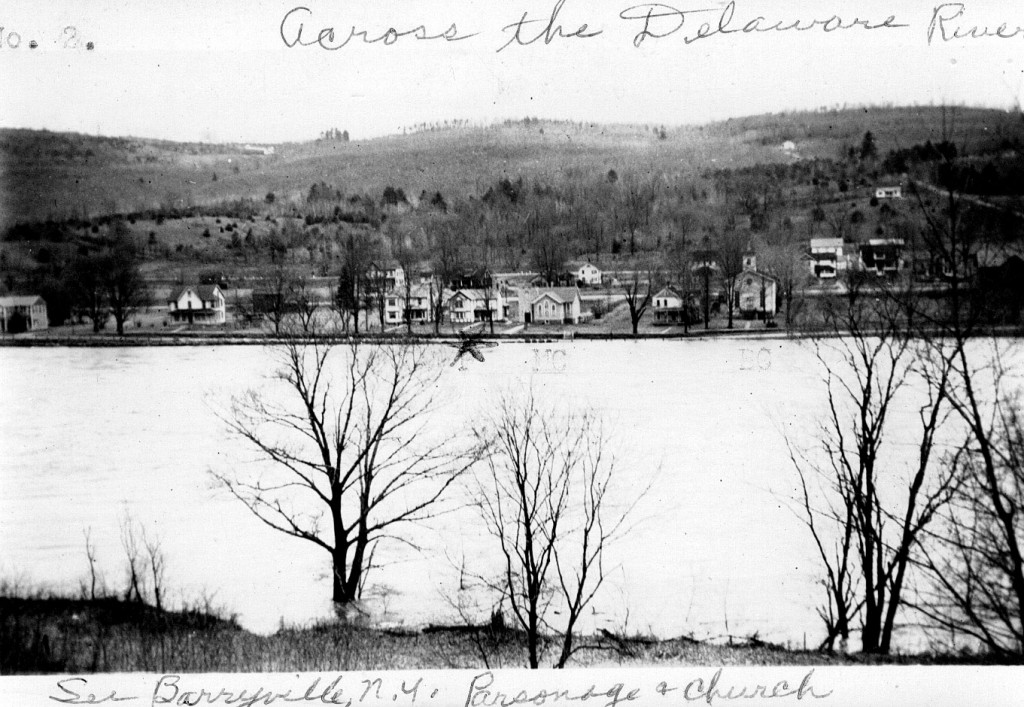 March 1936
Sunday, March 1, Everett Kelley ate supper with the Leavenworths. Norman Wolff was in. Mr. Briggs stopped by the Leavenworth's three afternoons that week. He bought a violin from Garfield for $6.
My dad Irwin Briggs had orchestras at all the churches. In Barryville I learned violin, two others did, too. When we gave a concert, Dad said we could play the song backwards and forwards. So we played it forwards and we turned our backs and played "backwards."—Mary. [See: February 1936]
Saturday, March 14, Jim went to the Austin's. The Leavenworths started working on the sap for maple syrup. They boiled 45-1/2 quart jars down to 1-1/2 quarts of syrup. Sunday they boiled the sap all day.
Bob and Herb Wolff, and the Leavenworth men went to the estate sale at Stege's. Charlie Foster was over for supper.
There was terrible flooding of the eastern rivers soon after the middle of March. Wednesday (18th) Clinton took Clara and Ella to see the flood at Barryville. Thursday the menfolk went to see the Delaware River in flood.
Ell Austin's daughter-in-law Sadie Austin, in Pennsylvania, wrote to tell Ell how bad the flooding was. (Sadie's husband Henry was a half brother to Lillie.)
Sadie Austin, Honesdale, Pa., to Mr. J.E. Austin, Ossining, N.Y.
March 21, 1936
Dear Pop,
Your letter just rec'd. and we shure have had some excitement up here. We had some flood. I had a cellar full of water and 16 inches of water. Water all over the first floor, but I moved everything upstairs but one rug in the kitchen, but the stove was on that so I didn't try to move that.
We have about two foot of water in the cellar yet and the river raised about 10 inches again, today, so I don't know what it will be by morning.
I am sick looking at mud and water. This is the second one we have had. When the ice went out, we had 32 inches of water in the cellar then and I just got the worst of it cleaned up and now this mess again. They was about an inch-and-a-half of mud all over the floors.
We had to go up to Margo's [her daughter], but I am here and started a kitchen fire to try to dry out the place…We have a lot to be thankful for. There is so many more that is so much worse than we are. Hoping this finds you all o.k. Love to all from all, Sadie