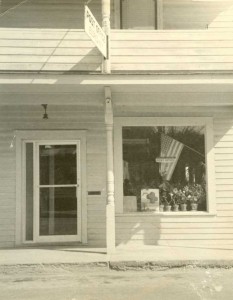 October 1941
Wednesday, October 1, Lon (84) received a birthday card from his brother Ell.
Thursday, October 2, one of the state police stopped in to see if Lon had seen anything of the neighbor's adopted boy. "A lot of young fellows were riding horseback up our lane and down the field across the road. I think they must have been looking for Harold's boy," noted Aida.
Friday morning Aida was once again at the A&P. But they did not yet have the bread she wanted. Arthur and Lon had gone to 
Port Jervis in the morning. 
When they came back, Aida rode to the Village with Arthur for the bread. Art then drove Aida home.
Mae was over and told Aida that they found Harold's boy with his aunt at Glen Spey.
"Listened to exciting war news of ship sinking off Brazil," Aunt Anna Leavenworth of Islip wrote on Friday.
Monday, October 6, in Eldred Lon went to the A&P and the Post Office. Monday evening the Yankees won the World Series.
Wednesday Rowlee fixed the church door and the steps on the stoop at Aida's. Aida was at the A&P and Post Office on Thursday.
Saturday was the Methodist Church Picnic. The group stayed in the Church Hall and didn't go to the lake as usual, because it was too windy.
Sunday, October 12, in Islip, Anna knitted afghans for the British Relief.
Monday morning in Eldred, Lon went to the Post Office. Robbie Bosch and the Myers' boy who worked for them, took wood over to Lon's in the afternoon. Lon made some cider.
Ella Leavenworth who lived on the west side of Eldred, bought 100 pounds of potatoes from the A&P on Monday.
Tuesday when Aida got back from the A&P, she helped Lon finish carrying in his wood. Lon made some more cider.
Thursday Lon went to both the A&P and Post Office. On Friday Lon went to Newburgh and then to Port Jervis with Mr. Briggs to meetings for Ministers and Laymen.
Saturday Lon took his almost daily jaunt to the A&P for bread. Arthur stopped at Aida's for one of his books.
Tuesday morning, October 21, Aida was at the A&P. After school in the afternoon Melva visited her great-aunt Aida for a little while.
Wednesday Aida did her washing. Thursday four hunters Aida didn't know stopped by her place. They didn't stay very long as it began raining. It continued to rain off and on the rest of the day.
Monday morning, October 27, was rainy, but that did not stop Aida from taking her usual hike to the A&P. Arthur was at her place in the afternoon. It was the first day he had had off in two weeks.
Arthur told Aida that his brother Bob was in the Anti-Aircraft Department, and expected to go overseas soon. (Bob had gone to Canada to enlist.)
Tuesday it was clear, but very cold. Melva was at Aida's about noon to get something to wear to a masquerade party.
Wednesday afternoon in Islip, Anna ordered a Singer Sewing Machine. It was delivered Friday morning. That night Jimmie Braddock her cat was in a terrible fight. Jimmie B. was appropriately named after the American boxer who had won the Heavyweight Title in 1935.