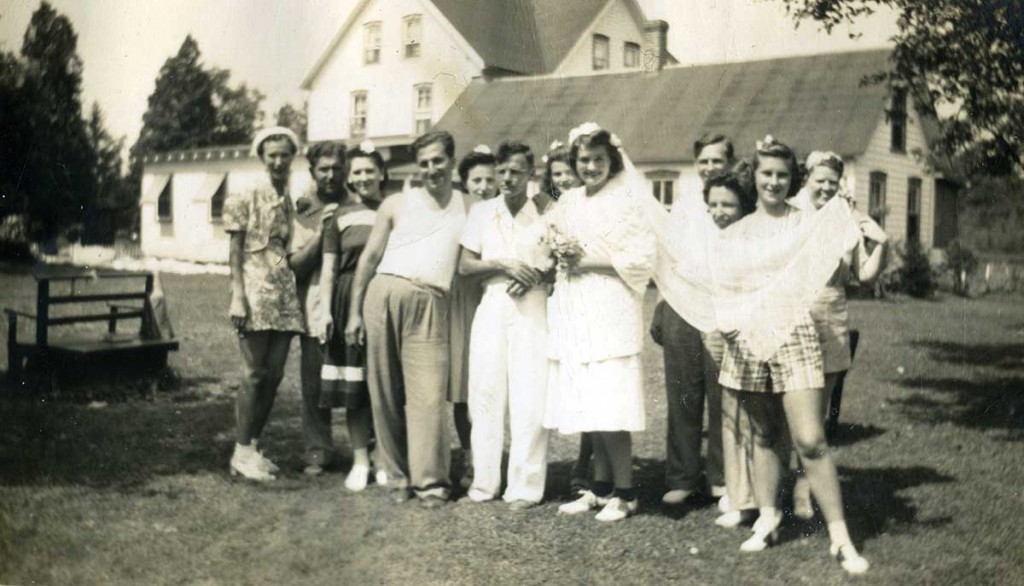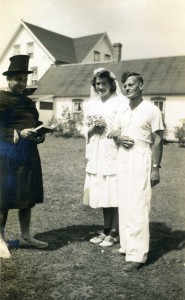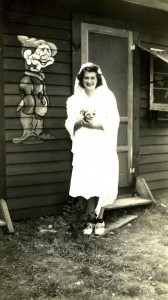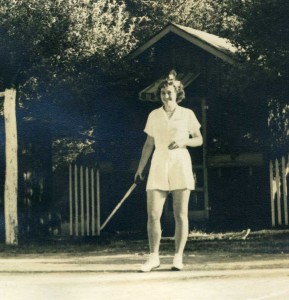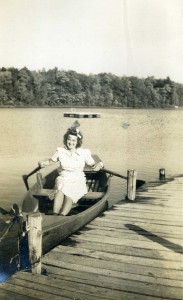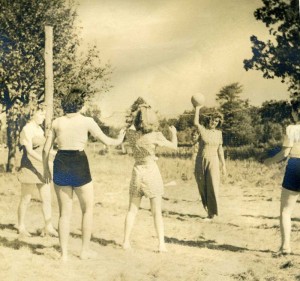 Green Meadows—Matchmaker's Paradise
Green Meadows (first Bosch's Lake House, then Green Acres) was the most popular venue on Highland Lake for many years.
Located on the swampy end of Highland Lake, Green Meadows did not even have a beach, just a boat house, a dock, and a submerged fenced plank platform for children to wade and swim.
Competing boarding houses may have had more luxurious accommodations and even a beach, but none could compete with the friendly, festive atmosphere and plentiful, delicious food that the Pankows provided. Charlie Pankow transformed Green Meadows into a thriving business for 25 years. He was a great entrepreneur who knew how to show his guests a good time.
At some point before the 1940s, a semi-circle of small cabins were constructed in the rear of the main houses, shaded by plentiful apple trees.
The cabins were given colorful names, many named for well-known hotels: "The Waldorf," "The New Yorker," etc. Disney characters were painted on the cabins and even on the barn.
Every Saturday night there was a dance party in the barn, with much drinking and revelry. There was also a mid-week dance.
Other nights featured movies, bingo games and other entertainment. In the early forties "mock weddings" of randomly selected singles were held, complete with costumes and a "preacher."
During the day, there were spirited games of bocce ball on the front lawn, lounging in the shade of the many trees, swimming and sunbathing at the boat house, and driving to visit local attractions. There was a snack bar in the "barn" and outdoor speakers filled the air year after year with the memorable hit songs from the juke box.
The days were punctuated morning, noon and late afternoon by the welcome dinner bell, signifying the call to yet another delicious meal. In the evening boarders would stroll along the road and later congregate in the barn for a scheduled event or just to socialize.
In actuality, Green Meadows was a match-maker's paradise. Many couples met at Green Meadows and later married, including my mother and father. My mother, Florence met my dad, Willie, while she was vacationing there in 1941 and they married the following year. His brothers Henry "Whipple" and Charlie both met their wives when they were guests at Green Meadows.
Many waitresses, dishwashers, handymen and cleaners met friends and sweethearts while working summers at Green Meadows.
—Ken Bosch. Farewell to Eldred, pp. 238–9.