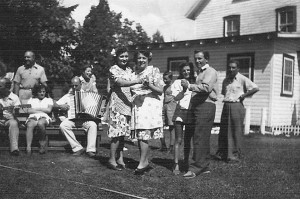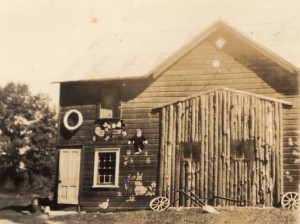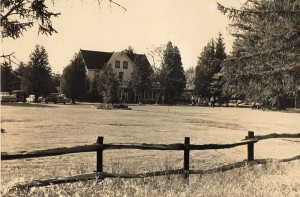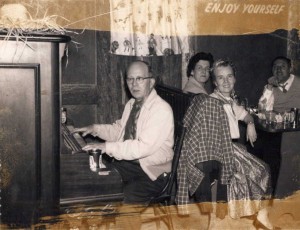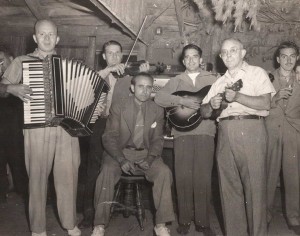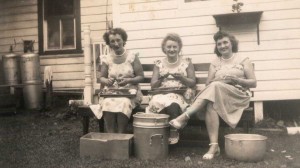 In 1950 Charlie Pankow married Ann Hughes, a regional account manager for the Woolworth Company, who had been a guest in the Highland Lake area. At the time Ann, her sisters, brother, and mother Lillian Hughes lived in Brooklyn.
Ann had borrowed her older sister Mildred's name and working papers so she could get a job at Woolworth's before the legal age. The result was she was always known as Millie (except to her family) and Green Meadows became "Millie and Charlie's" place.
Charlie and Millie married in mid-September and there were still several guests left at Green Meadows. Millie was suddenly charged with the tasks of cooking, waitressing, and dish washing. She was used to eating out in New York City, and could "barely boil water." When she peeked out from the kitchen, she saw guests dropping her biscuits on the table to demonstrate their density.
Within a few winters Millie not only mastered the art of cooking and particularly baking, but became well known in the area for her meals and baked goods.
Guests gained about 10 pounds on their week-long vacations, as food was served "family style" and offered in unlimited portions with everything being made from scratch.
On busy holiday weekends like the Fourth of July and Labor Day, many of the Green Meadows guests would have to sleep at some of the other boarding houses around the lake due to lack of rooms, but they ate at Green Meadows, requiring twice the amount of meals, which in turn, resulted in two seatings for meals.
Guests were known to gather in the kitchen and help peel potatoes, crack eggs, and shuck corn. Most would come the same week or weeks every year. Some wives and children came for the whole summer and the husbands came up from New York City on weekends only.
During the winter, the Pankows would focus on renovating the cabins and rooms. The cabins were named after famous hotels of the era such as the Ritz, Astor, Manhattan, Carlton, Vanderbilt, Hilton, Edison, Plaza, Sheraton, New Yorker, Algonquin, Biltmore, Commodore, Madison, and the Roosevelt.
As opposed to the larger resorts in the Catskills, entertainment was mostly self-made, and included bingo, movies on the lawn, dancing and masquerade parties, outdoor barbecues, lawn races, horseshoes, ping-pong, badminton, shuffle board, miniature golf, baseball, swimming, bocci ball, etc.
Many local people worked at Green Meadows including: Florence Bosch, who was the head of housekeeping for years. Bill Schroeder delivered all the eggs and other provisions. Hank Schroeder was in charge of landscaping. A number of waiters and waitresses were also from the area and others lived on the premises for the summer.
Charlie had a corny sense of humor. To trick newcomers he put up a sign on a trail "To The Spring" which ended at a mattress spring in the woods. Signage on a little shed said "See the Monkey." When you opened the door, you were facing a mirror. A rock that looked like a baked potato would be in a bowl of baked potatoes for new guests. A tradition on Friday nights after the lawn games was for Millie to have made a meringue pie and one of the waiters would chase Charlie around until he got a pie in the face.
—Diane Pankow.