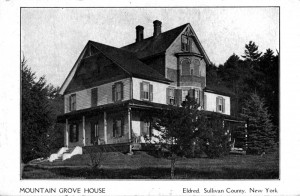 McKinley Austin, Chattanooga, to Aida Austin, Eldred
Dear Aunt,
I am here and like it better than at Fort Slocum. We get better food and the officers seem better, though we had a fine sergeant there.
It took over 34 hours to come here, counting from the time we left the barracks at Ft. Slocum, till we got here. If I am lucky, and come back, I wouldn't miss this for five thousand dollars. The trip down to here was worth a year of a man's life. I'll never forget it. I am sure.
For the present, my address is: Mortimer Austin, 11 U.S. Inf., F Company, Military branch, Chattanooga, Tennessee. Your nephew, McKinley
McKinley Austin, Chattanooga, to His Family, Eldred
To all family, relations, friends,
I am very well and certainly like this place. We left Port Jervis on the morning train instead of the 12:15. Of the 15 applicants, only 2, Al Delaney and I went. We were examined at Poughkeepsie and a bunch of us, 13 in all, were sent to Ft. Slocum. We got there late at night.
Sunday we were examined again and four were sent back. Also we were vaccinated and inoculated for typhoid. My vaccination didn't take, but the inoculation did.
Monday we got our uniforms and were assigned to our squads. Tuesday afternoon, we were told to get ready to go South. And we were examined again.
About 7:30, we left our barracks, turned in our blankets and marched to the parade ground. The commander inspected us. Then we were sent aboard a ship and sent down the East River.
All the way down, everybody on shore was waving. Every boat was saluting and the factory whistles were blowing. The Battery was crowded with people cheering, waving and throwing their hats in the air. I saw the Brooklyn Navy Yard, Brooklyn Bridge, Statue of Liberty, and other noted places.
They shipped us from Jersey City through on a special train. We were well received everywhere. As we went through the towns, we would sing and cheer and wave to the crowd. My throat and arms got tired, but I never had so much fun before in my life. We certainly got some welcome.
In one East Tennessee town there was a little girl about eight years old holding a baby about the size of Robbie standing by the track and waving to us.
The country through east Tennessee is very beautiful and so are the girls. The ladies of this region are very good looking and nice acting girls. They have a ladylike way that a good many of the northern girls, especially those from the city, have not. And they dress properly for which I think counts a good deal toward making a lady. Of course, I may have only seen the best sort of them, and may later see the short skirted, loud mouthed, painted, over dressed female that we see too much of in our cities.
Give my regard to all our town and soon I will begin writing to my friends up there. From Mac, otherwise, Mortimer Austin
—Echo Hill and Mountain Grove, pp. 320–322.