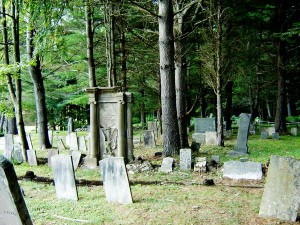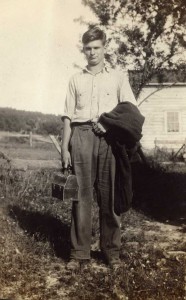 November 1941
It rained quite hard most of Saturday in Eldred. Herman Sr. and Jr. were down to see Lon in the evening. They asked about putting up signs forbidding hunting. Harry Wormuth was in to see Lon after the Bosches left.
Monday morning, November 3, Aida went to Mary Bosch's to take back her bottles. Mary was not there. So Aida walked over a mile to Mae's and stayed for dinner.
After dinner Aida walked to the A&P. She rode part way home with Mr. Kinne.
Tuesday, election day, was rather ambivalent—partly clear and partly cloudy. Lon went to the Village about two o'clock, but came back without voting.
Howard Stevens stopped by between three and four to take Lon and Aida to vote. Howard also drove them back home.
Wednesday morning Aida, stopped at the A&P before going to the Post Office where she saw Howard. On her way home Aida met Mrs. Winter. Lon went up to Wormuth's to order coal in the afternoon. He met Arthur in the Village and Arthur gave him a lift home.
Wednesday Jim Leavenworth started working on the Stege place for Narrowsburg Lumber Company.
Friday was a pleasant day and Aida did her washing in the morning. Saturday morning she ironed. Mr. Briggs and his son John brought up some apples in the afternoon and made cider.
On Wednesday morning, a little bit after Aida's usual jaunt to the A&P, Lon went up to get wood. John Dunlap gave Aida a ride home. Lon was already home when Aida arrived. He had ridden back with Alex Wait, who took him to the Dubois place to see how they were fixing the dam.
Thursday was cold all day. Lon didn't go to the woods.
Friday morning Lon went up to the woods again. Alex said some one had killed a deer by the dam Wednesday night—before deer season opened on Friday.
Saturday morning Lon went to the Village. He was back a little while before the Myers' boy who worked for Bosches brought the load of wood Lon had cut.
Sunday, November 16, Arthur was in the Village and gave Lon a ride home from church.
After shopping at the A&P Tuesday morning, Aida saw Mrs. Lewis in the Post Office.
Monday, November 24, Aida, in addition to her usual outing to the A&P, walked to the Eldred Cemetery. Mrs. Winter and Clarence Sergeant's wife stopped by Aida's for some pinecones and a short visit, in the afternoon.
Tuesday the West boy who worked for Harry Wormuth hauled a load of wood to Aida's in the morning and a load of coal about seven in the evening.
Wednesday was cold and windy, so Aida did not go anywhere. Thursday Aida went for bread and kerosene in the morning and for wood about noon. Lon kept busy writing 
his talk for the prayer meeting that night.
Sunday, November 30, Arthur drove Lon home from Church.
In the afternoon Art went to Aida's and left his Sullivan County History book with her. Art would continue to board with Alfred and Bessie Hill for the winter.
(Most likely the history book was Quinlan's History of Sullivan County. Aida copied by hand a good deal of information from Quinlan's thick book.)
"War news is quite exciting," Anna Leavenworth of Islip wrote on Sunday, November 30. It was about to get too exciting.