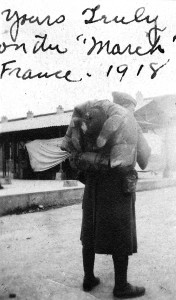 When Raymond Austin enlisted in May, Mort and Jennie Austin had two sons to be concerned about.
In mid-June, Raymond was recuperating at the Base Hospital at Camp Merritt, NJ. McKinley was with the 11th Infantry in the Vosges Mountains, France.
Vosges Mountains, France
From mid-June to mid-July, the 11th Infantry Mortimer McKinley Austin was with, worked their way from Moosch, Alsace, in the Vosges Mountains to the Saint Dié Sector—66 kilometers (41 miles) west. McKinley was in the Machine Gun Company. His outfit took part in the Vosges Mountains, St. Mihiel, and Meuse-Argonne offensives in northeastern France.
Hindenburg Line
Germany had built a major defensive fortification system in northeastern France. Known as the Hindenburg Line, it included concrete bunkers, heavy belts of barbed wire, tunnels for moving troops, deep trenches, dug-outs, command posts, and machine gun emplacements—excellent protection for German machine gunners.—From wikipedia.org.
Le Collett, France, June 26, 1918
Early on the morning of June 26, the Germans attempted to raid the positions held by Companies I and L. The raid was repulsed with losses to the enemy.—Sergeant John G. Popp, 11th Infantry History.
Pvt. M.M. McKinley, 11 U.S. Inf., France, to Jennie Austin
June 27, 1918
Dear Mother,
Just a few lines to let you know I am all right. I have been to the trenches and like them better than drilling. It was bad when it rained, but on good days, I like it.
The Germans shelled us once or twice but the more I see of artillery bombardment, the less I am afraid of it.
The trench rats scared me a couple of times when I was on guard. When they run around, they make a lot of noise and I thought once that it was a German in the next bay when it was only a rat. [They reportedly grew to the size of cats!]
Did Raymond ever join? I think it will do him good. I wish you would send me the address of the Eldred boys who are in the Army.
I will close hoping you 
are well. I am Your loving son,
McKinley
Machine Gun Co.