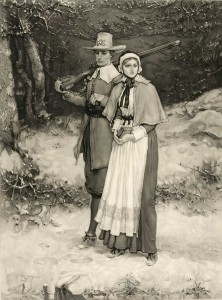 Hannah Hickok Smith was 79 years old when she wrote the following about Thanksgiving in the year 1846. Hannah, a widow for sometime, and her five daughters, Zephina, Laurilla, Cyrinthia, Julia, and Abby lived in Glastenbury, Connecticut, some seven miles from Hartford. A voracious reader, Hannah's eyes were weakening and she repeatedly mislaid her glasses. She commented on her health as she often did not feel well.
Monday 23, Monday
…It has grown so cold today that all our cattle are in the yard eating stack hay. I do nothing but read…We washed and ironed.
It is near Thanksgiving, but we do not begin to cook for it. I do not think I have been so happy on that day as I was before my father's death (1784) when I was sixteen and Bella and Sally came to see me.
November 24, Tuesday
…Have been tolerable well except when I go about, I have that bearing down pain, I do not know what it is…
Next day after tomorrow is Thanksgiving. Zephina and Laurilla have been down the street to get a sheet iron to bake on and a stove pipe fixed for the parlor. Zephina is gone to kill fowls.
November 25, 1846, Wednesday
Today rose about seven…The storm begins to be tedious. Our cattle should go in the stable…I am as well as usual and better…It does not seem like Thanksgiving tomorrow.
November 26, 1846, Thanksgiving
Weather: cold, clear, icy and snow. I rose about seven. The ground is covered with snow which does not melt. One or two sleighs…
We have had a fire here in the air stove today. Laurilla and I are pleased with it. It makes such equal heat. I think it made the pudding the best we ever had. And because it was so sweet, the tart and pumpkin pies.
I could not praise most excellent chicken pie and I have eat as much as I want and feel the better for it, no pain or other bad symptom…
We have all our cattle stabled, except the 2 yearlings. Thermometer: 30. The wind blows and it will be colder. Some sleighs, but poor sleighing, though the snow has not melted.
November 27, 1846, Friday
Still cold and windy, sleighing poor, but it is day after Thanksgiving which once was a pleasant day and it is now gratifying to think I am in better health than I lately expected to be…
It is cold writing here. I have a fire in the parlor and I shall sit by it…
—Hannah Hickok Smith's Journal, Part VIII, August 14, 1846–March 31, 1847, Hartford, Connecticut State Library, 1945. (I adjusted some wording for readability.)
Note: Mezzotint is a printmaking process which enables half-tones to be produced by roughening the plate with thousands of little dots made by a metal tool with small teeth, called a "rocker." In printing, the tiny pits in the plate hold the ink when the face of the plate is wiped clean. A high level of quality and richness in the print can be achieved.