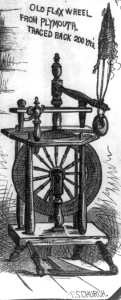 Hemp and flax were two major crops in early New England. The age old lengthy, labor-intensive procedure of processing the flaxen or blond-colored fibers of flax plants into linen thread, was still used in the 1770s by David Hickok, a descendant of William and Elizabeth Hitchcock.
Rippling, Retting, Dressing
• Flax is harvested about a hundred days after it is planted. The three- to four-foot tall plant is pulled up from the roots to get the longest fibers. The stalks are drawn through the teeth of a rippling comb or threshed with a flax flail to remove the seeds.
• The stems are retted (or rotted) in water or in a field (using 
the dew) to release the soft fibers. When dry, the three-step 
process: breaking, scutching, and heckling, separates the fiber from the straw-like stalks.
• A wooden brake breaks the woody core into short sections, loosening the flax fibers. A wooden scutching knife or paddle is used to scrape the remaining fibers from the outer stalk.
• The separated fibers are drawn a number of times through different size heckles or heckling combs. The rows of different size iron tines on the "combs" remove the remaining pulp and the shorter coarser strands of fiber, called tow.
• The fibers are sorted according to fineness. The longer fibers (up to three feet) can be spun into linen thread, used to bind books, make shoes, or for twine. The tow can be used for rougher linen yarns or rope.
Linen Thread
To make linen thread, the longer, fine flax fibers were wrapped around the distaff—a long vertical pole attached to a spinning wheel. The spinner then spun "a long, even thread from the mass of fiber" and wound it onto bobbins or spools.
"When the bobbins were full," the spinner wound "the thread off on a reel into knots and skeins…" It was a good day's work to spin two skeins of twenty knots each, every knot having forty threads."—Buel, The Tale of the Spinning Wheel, 35–37.