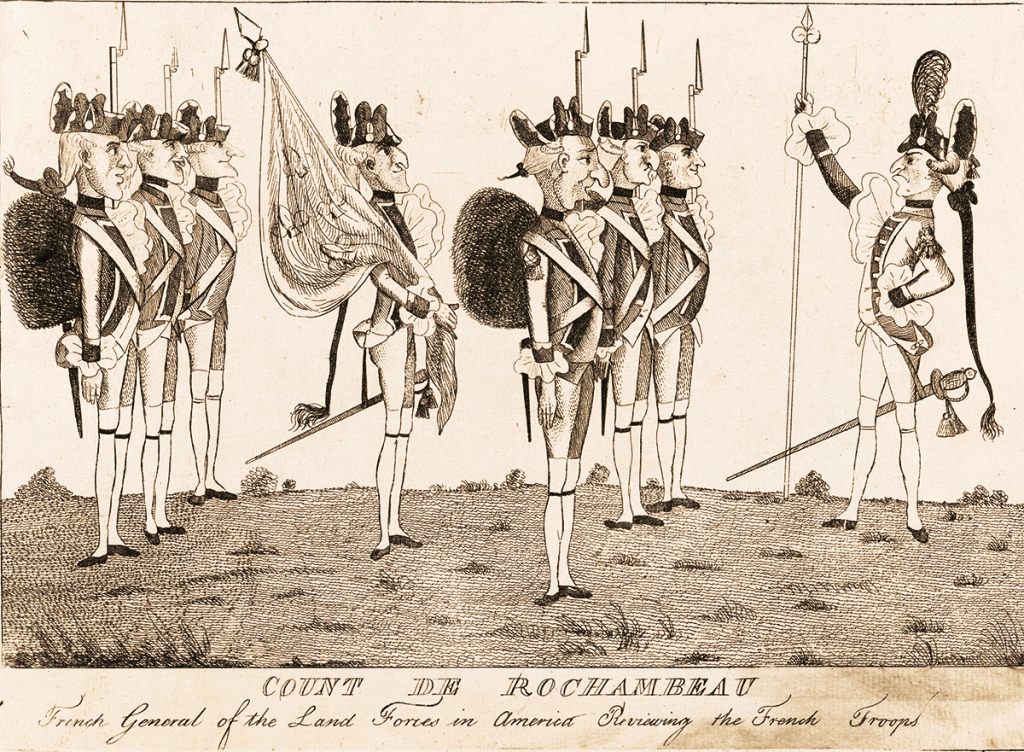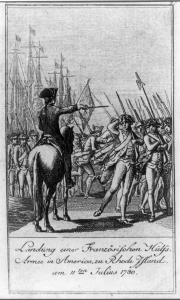 1781 French Troupes in Southbury *
In June 1781, after several planning sessions with George Washington, General Count de Rochambeau and his French Troops (divided into four divisions) left Rhode Island to join forces with Washington in what is now Greenburgh, New York.
On each of four days, one of the divisions left Rhode Island. General Rochambeau on his "fine steed" was in the first division. Their route through Connecticut included, Hartford, Farmington, Southington, Waterbury, and Breakneck (a section in today's Middlebury).
After a night at Breakneck, the French Troops began their thirteen-mile march through southern Woodbury (Southbury) to cross the Great River and set up camp in Newtown, Connecticut.
What a sight for fourteen-year-old Hannah Hickok (daughter of David and Abigail), her relatives, and neighbors. Starting on June 28, 1781, and for each of the following three days, one of four divisions arrived from Breakneck on the trek through Southbury.
Officers, in two-corner hats and white coats trimmed in green, were followed by enlisted men (in wigs) with muskets marching two by two carrying sixty-pound packs.
Each Division featured at least one thousand soldiers, followed by their Artillery, two "twelve-pounders" and one or two mortars. Teams of four horses pulled ten Regimental wagons.
John Leavenworth, the Southbury miller, furnished the French troops with wheat, corn, butter, and pork at no charge.** (John's Mill went up for sale in 1783.)
Most of the supply wagons crossed Carleton's Bridge. But the Artillery Units had to use teams of oxen to drag the heavy siege cannons two miles north and cross the river at the ford.
From July 6 to August 18, 1781, Rochambeau and his French forces set up camp on the Odell Farm in Greenburgh, New York. Then they headed to Virginia and the final battle of the Revolutionary War.
—Abby, Laurilla, and Mary Ann, pp. 60–61.
* Raymond E. Sullivan, Breakneck, pp. 88–9.
** Southbury miller: Elias Warner Leavenworth, A Genealogy of the Leavenworth Family in the United States, p. 326.