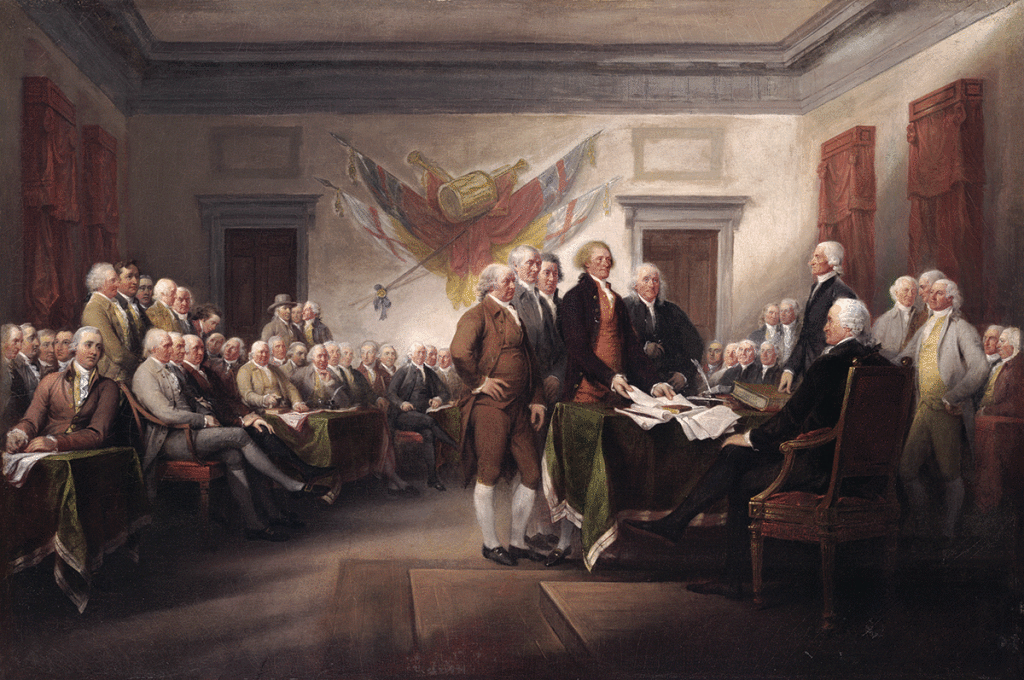 John Trumbull, an artist, was the second personal assistant (aide-de-camp) to Washington during the Revolutionary War. After the war was over, Mr. Trumbull painted a series on American history.
In 1817 the U.S. Congress commissioned Mr. Trumbull to paint the signers of the Declaration of Independence. Thomas Jefferson and John Adams recommended that all the delegates be included—whether they were present or not and whether they signed or not.
Though Thomas Jefferson was the main author, Trumbull's painting shows John Adams, Roger Sherman, Robert Livingston, and Benjamin Franklin (who had worked on the draft) presenting the document to John Hancock, president of the Second Continental Congress, on June 28, 1776.
John Trumbull worked on the Declaration painting for more than thirty years. Only forty-two of the fifty-six Declaration signers are represented, as Mr. Trumbull did not have likenesses for everyone.
In at least two cases, Trumbull painted sons who resembled their fathers. The 12-by-18-foot painting has hung in the U.S. Capitol Rotunda, since 1826.
—artgallery.yale.edu; wikipedia.org; Abby, Laurilla, and Mary Ann, pp. 60, 61.