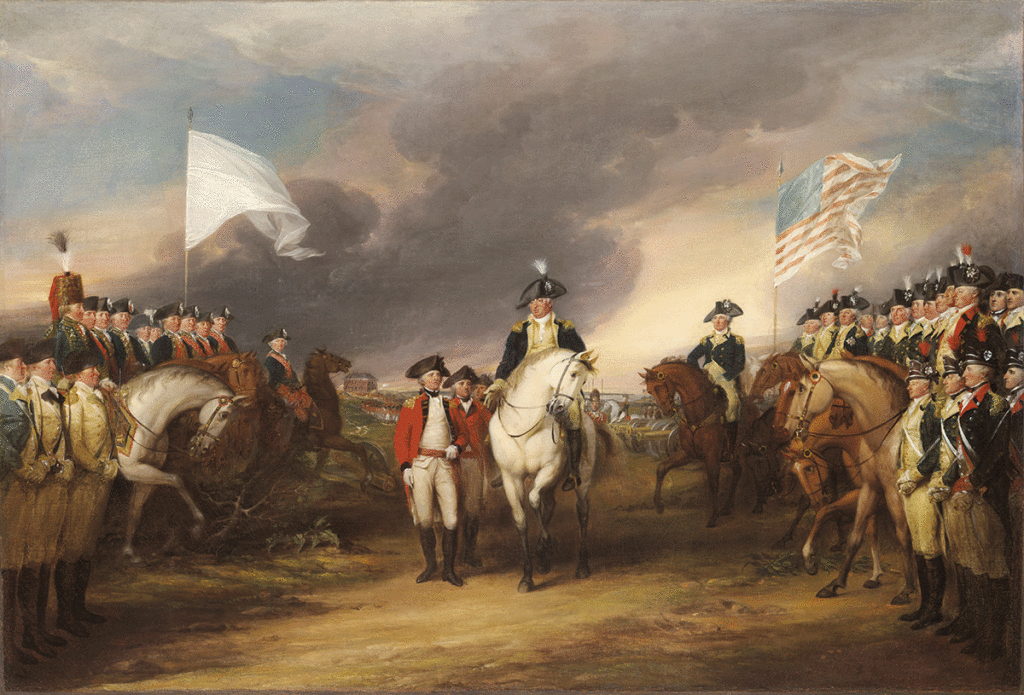 Above painting: The defeated British army marches between the Americans on the right, led by General George Washington, and the French on the left, led by General Jean-Baptiste Rochambeau. At the center, on horseback, Major General Benjamin Lincoln, Washington's second-in-command, accepts the official surrender from General Lord Cornwallis's deputy, General Charles O'Hara.
Honours of War
Honours of War was a symbolic recognition of a valiant defense, which gave the surrendering Army permission to march out with drums beating, bayonets fixed, and flags flying. Or their band could play a tune of its own choice.
On October 19, 1781 British General Charles E. Cornwallis formally surrendered. Cornwallis claimed to be ill and sent General Charles O'Hara to offer his sword to General George Washington.
General Washington would not permit the British Troops the Honours of War or accept the sword from General O'Hara.
Instead, General Washington sent Major-General Benjamin Lincoln to accept the sword. This helped to undo the indignity the British had caused Benjamin Lincoln when they rejected his request for a surrender with Honours of War after the Siege of Charleston, in 1780.