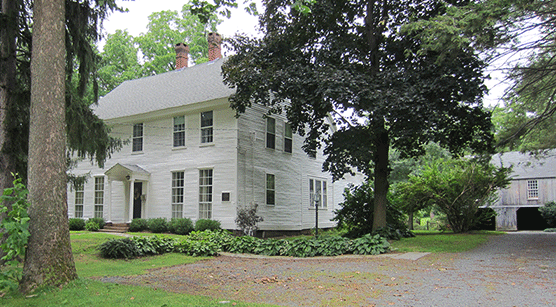 It was the start of a new century. Daily life continued much the same for Zephaniah and Hannah Hickok Smith, of Glastenbury, Connecticut.
Along with Zephaniah's law practice, the couple maintained (or hired help for) their large two-story house (Kimberly Mansion) on 133 acres. And tried to keep one step ahead of their five especially bright young daughters (ages three to thirteen), Zephina, Cyrinthia, Laurilla, Julia, and Abby.
Hannah organized and assigned responsibilities to her daughters. Outdoor tasks included tending the gardens and orchard and caring for the animals. Inside there were meals to be made, dishes to be washed, ironing, sewing, spinning, weaving, cooking, and a multitude of other tasks.
But always there was reading!
In 1800 the Smith parents considered two schools in Connecticut: Sarah Pierce's Female Academy in Litchfield, and the Norwich Boys Academy (which allowed girls to attend). Both schools were boarding situations.
Sarah Pierce's Litchfield Female Academy
Miss Sarah Pierce, a descendant of the early New Englanders, believed that women and men were intellectually equal. Convinced that girls should be taught the same subjects as boys, Sarah founded the Litchfield Female Academy, one of the earliest schools for girls in the United States.
Miss Sally, as her students called her, wisely integrated an innovative curriculum of academic subjects with the usual "female" skills (that parents expected their daughters to learn) which included music, dancing, singing, needlework, drawing, and painting.
Geography and history lessons were reinforced with maps and charts the students drew and painted. Students' embroideries and watercolor paintings illustrated poetry, literature, myths, and Bible stories.
In 1798 a schoolhouse was built on the north side of Sarah Pierce's house. At each end of its large room was a fireplace. A piano was on one wall. In the center of the room was a swinging partition which could act as a divider. The benches had no backs. Most likely this was how the school was arranged when Cyrinthia and Laurilla Smith attended.
In 1802 Cyrinthia, age fourteen, and Laurilla, age thirteen, the two Smiths from Glosing Berry, joined fifty-eight other students who attended Miss Sarah Pierce's Female Academy in Litchfield. One young lady was from Woodbury, another was from Roxbury, and three girls were from the West Indies.
The subjects included geography, using a dictionary, spelling, composition, reading, sewing, embroidery, map study, drawing, painting, music, and history. Miss Pierce offered a "thorough ancient and modern history" which she had compiled from the best available sources.—excerpt from Abby, Laurilla, and Mary Ann, Chapter 6, pp. 92–96.
Information from: Emily Noyes Vanderpoel, Chronicles of a Pioneer School from 1792 to 1833, pp. 1–3, 6, 7, 323–4; wikpedia.org; litchfieldhistoricalsociety.org.