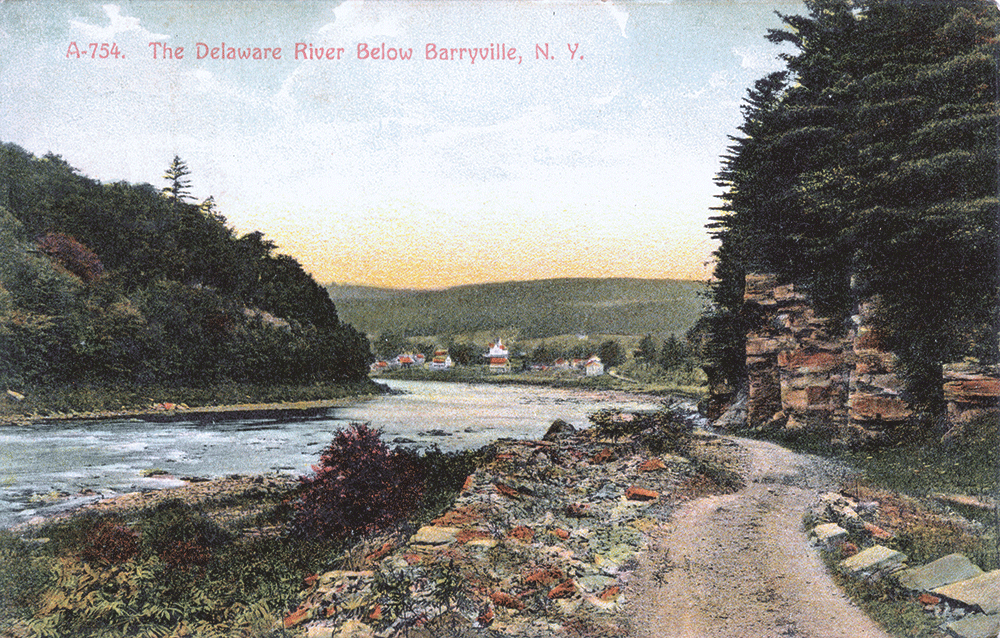 In the 1780s Hannah Hickok Smith borrowed and diligently read her uncle Asa Hickok's geography book. From 1802 to 1812 Uncle Asa, Aunt Esther, and their six children (Hannah Smith's first cousins) lived in Burlington, part of original Farmington, Connecticut.
In 1812 Asa and Esther and their children: Hannah Hickok (age twenty-three), Reuben, Sylvia, Louisa, Justus, and David (his wife and son Asa Royer Hickok), left Burlington. Their journey of 125 miles took them across the Hudson River, to the remote, rugged wilderness region of Lumberland, in Sullivan County, New York.
This Hickoks settled on property two miles north of the Delaware River. Nearby Halfway Brook rambled through the middle of Lumberland's 150,000 acres of rolling hills carpeted with huge, ancient trees, interspersed with streams and ponds.
Asa and his sons built their house and barn on land which today includes Hickok Falls on Hickok Brook. Hickok Brook connected with Halfway Brook on its way south to the Delaware River, the town's southwestern boundary, and the New York-Pennsylvania border. The family built a sawmill near the Hickok Brook and Falls. (Asa's brother Gideon had run a sawmill in the Greenville, New York area.)
Near the juncture of Halfway Brook and the Delaware River was a hamlet, later called Barryville. A crude, rope-guided ferry was the only way to cross the Delaware River from Barryville south to Shohola, Pennsylvania.
In 1854 Abby and Laurilla Smith crossed from Pennsylvania to New York, on that same ferry. Abby found Lumberland a pleasant place which agreed with her health. Laurilla, the artist, took notice of Halfway Brook.
Lumberland
Lumberland was sparsely settled. Deer and beaver were prevalent. Bears, wolves, foxes, coyotes, and wildcats hunted in the thickly forested area, and occasionally helped themselves to the settlers' chickens and sheep—just as they had done long ago in Farmington and South Britain.
Lumbering was the town's major occupation. Nine sawmills dotted Halfway Brook's nine miles. Sawmills hummed on at least four other rivers or brooks, which also fed into the Delaware River.
Logs were cut, sawn, and often floated in rafts1 on the Delaware River to Port Jervis, New York, and on south to Philadelphia, Pennsylvania, where the lumber could be sold. (Just as Hartford was left bereft of its lumber in 1640, so Lumberland was eventually stripped of its valuable timber.)
The soil was not great for farming, but vegetables, rye, corn, buckwheat, grain, hay, and some fruit trees were grown.
The daily work in Lumberland was similar to what Asa Hickok and his brother David experienced growing up in South Britain, Connecticut—minus growing flax and weaving. Oxen were used for lumbering and farming, just as they were in 1640s Farmington and 1700s Woodbury.
Cattle were free to roam. Chickens provided meat and eggs. Fish and eel were plentiful in the Delaware River.
—excerpt from Abby, Laurilla, and Mary Ann, Chapter 7, pp. 103–10.