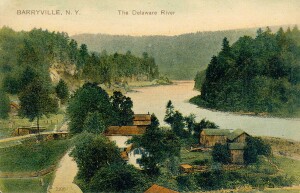 We leave the Smiths in Glastenbury in 1825 to visit the younger Hannah Hickok, her brother Justus Hickok, and the Eldred Family who live in Lumberland, New York. Hannah's life is about to have a major change.
Daily work in Lumberland, whether on the farm, inside the house, or lumbering, continued to be challenging. Obtaining food and necessities of life was still difficult and time consuming. Unlike the Smiths who were just seven miles from the major city of Hartford, the Hickoks and Eldreds had to travel quite a distance.
The 120-mile-round trip to Newburgh, New York, on the Hudson River, took a week. It was only nineteen miles to Port Jervis, New York, to purchase grains ground into flour and dry goods. But the route, which overlooked the Delaware River, included the Hawk's Nest, a winding, sometimes treacherous path, carved out of the mountainside. Travel was easiest in the winter when the Delaware River was frozen.
Hickoks in Pennsylvania
In 1825 only Hannah Hickok and her brother Justus Hickok and his family remained in Lumberland, New York. Their parents Asa and Esther Hinman Hickok, and siblings Louisa and Reuben Hickok had relocated to Warren Township, Bradford County.
In 1854 Abby and Laurilla Smith first visit Louisa and Reuben Hickok, in Pennsylvania, before spending time with Hannah and Justus, in New York.
James Eldred, Widower
Such sadness in the James Eldred Family. From 1820 to 1823 three daughters (two had been born in Lumberland) of James and Polly Eldred died. Then in January of 1825 Polly Mulford Eldred died, at age thirty-seven. James was now a widower with four children, ages nine to nineteen, living at home.
James Eldred continued working in the local Lumberland government as Town Clerk, Commissioner of Highways, and Town Marshall. James owned almost 685 acres. The northwest corner of one parcel was the location of the future Halfway Brook Village, later renamed Eldred.
Hannah Hickok, her brother Justus and his wife Mary Wells continued to attend the rural church often held at the Eldred home where James was the Bible teacher.
Hannah Marries James
In February 1826 Hannah Hickok married James Eldred. She now had the care of the two youngest children: Eliza, who married the following year, and Phebe Maria, age ten. The family still lived in the old log cabin by the sawmill, near Halfway Brook.
Mary Ann Eldred
In December 1827 Mary Ann Eldred, my great-grandmother was born. (The Smith sisters and Mary Ann Eldred were second cousins.)