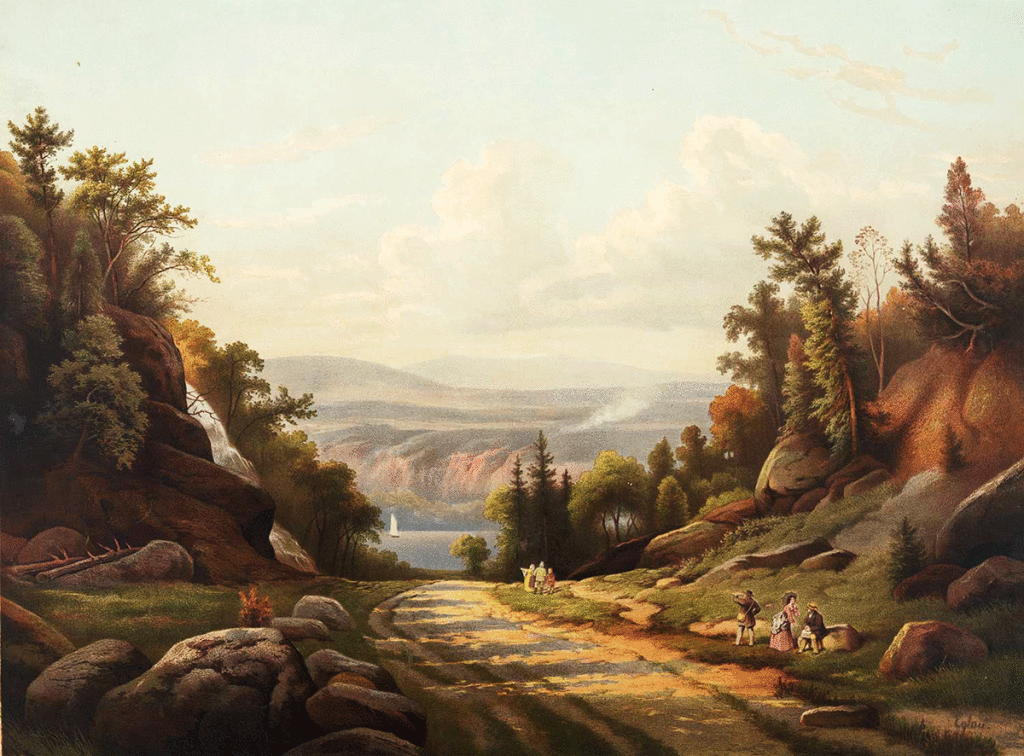 Hannah Hickok Eldred, her husband James, daughter Mary Ann, age three, and stepdaughter Phebe Maria, age fifteen, lived in a new two-story home.
Built in 1830, the house sat next to the old sawmill, a few hundred feet east of the main road.
Halfway Brook (further east) flowed four miles south to the Delaware River. The northwest corner of their property will eventually become part of Halfway Brook Village, and much later the village of Eldred.
In October 1831 James Eldred became the Postmaster for Lumberland. For the next twenty years one room in the Eldred home was set aside for the Lumberland Post Office. James also held positions as Lumberland's Inspector of Schools and Town Clerk.
Lumberland Occupations
Lumberland was slowly entering the nineteenth century. The community's economy continued to be connected with lumbering. But now jobs were available with the Delaware and Hudson (D&H) Canal, which had been designed by Benjamin Wright, the chief engineer of the Erie Canal.
Starting in 1828 the D&H Canal transported anthracite coal on mule-pulled barges, from the mountains of Honesdale, Pennsylvania, to Rondout (near Kingston), New York, on the Hudson River. Passengers could travel the 108-mile, man-made waterway.
Seventeen miles of the D&H Canal followed the Delaware River at Lumberland's southwest border. The D&H Canal operated stores, an office, and a dry dock, in Barryville. The developing hamlet soon boasted a blacksmith shop, a gristmill, a broom handle factory, and a business which would grind feed or saw lumber for customers.
Travel in and to Lumberland
Traveling in Lumberland was difficult whether walking, riding a horse, or traveling by coach. A ferry was still the only way to cross the Delaware River from Barryville to Shohola, Pennsylvania.
There were two ways to reach Lumberland from New York City. Both involved sailing north on the Hudson River.
The fastest way was to sail sixty-four miles north to Newburgh, New York and board a stage to Monticello, a forty-mile trip. Lumberland was only another twenty miles southwest.
The slower alternative was a ninety-mile steamboat ride north to the D&H Canal Depot, in Rondout, New York. The canal boat ride to Barryville took about five days.
Lumberland Churches
The Methodists were in Glastenbury, Connecticut at least by 1810. It was 1830 before circuit riding preachers from the Methodist Episcopal Church started teaching in remote areas on both sides of the Delaware River.
The Congregational Church, which the Hickoks and Eldreds still attended, met in a small schoolhouse near the Eldred home. In 1832 the congregation of fifty people had been without a pastor for six years. So a committee, which included James Eldred and Justus Hickok, was tasked with finding a minister.
The committee saw the newspaper ad of Felix Kyte of New York City. Mr. Kyte, originally from Lydd, England, was a teacher in New York City. So many of Felix Kyte's students died in the New York City cholera epidemic, that he decided to leave New York City, and requested a position as a Congregational minister.
James Eldred wrote and invited Felix Kyte to visit Lumberland. After spending some time in Lumberland, Felix returned to New York City. He soon received another letter from Mr. Eldred.
Though our Lumberland community is poor, they feel they can provide two hundred dollars a year for preaching…We can find a room for your family.
Mary Ann Marries Henry
With the Austins living so close to the Eldreds, and half sister Phebe Maria's husband being Augustus Austin, it is not a surprise that Mary Ann Eldred became acquainted with William Henry Austin, also a son of Ralph and Fanny Austin.
On January 9, 1849 Mary Ann Eldred, daughter of James and Hannah Hickok Eldred, married William Henry Austin.
Rev. Felix Kyte (who had been the pastor since 1832) performed the ceremony, just as he had for Phebe Maria Eldred and Augustus Alonzo Austin.
—Abby, Laurilla, and Mary Ann, pp. 141–149.