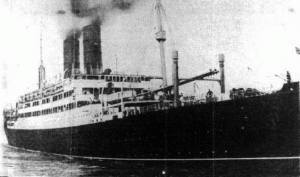 The S.S. Tuscania was a luxury liner named after a town in Italy. She was torpedoed February 5, 1918, by the German U-boat, UB-77 while carrying 2,013 American troops to Europe. Over 200 people were lost, mostly American troops.
—worldwar1.com
Anne Rassine, Astoria, Ore., to McKinley Austin
February 8, 1918
Dear Friend,
I'm staying in Astoria now till the end of this month. Astoria is a large city and besides it is a seaport city. This city is on a hill and of course part of it is built on Columbia River. Columbia River is about six miles wide at the part right opposite Astoria.
The men all have come to work in Astoria at the ship yards. Astoria has three large ship yards. And each one has three large ships under construction at present. My father is coming to work at the shipyards also, next Monday.
Well, how are you making it out there? When will you have to go to France? We have had great discussions about that ship, Tuscania that was torpedoed now lately. I hope to goodness that such a fate will never be yours as it was for those who perished in that disaster.
Astoria is full of soldiers and sailor boys. I suppose every city is at this time. Right close, only a few yards from this house, at the ship yards are many guards. Many of them are inclined to be quite friendly with some girls, but to me they've never said a word.
All the girls out here have soldiers for sweet hearts except me. I'm too young for a sweetheart yet. Eh! What do you say?
Good night and I wish Sweet Dreams for you. Especially about that sweet girl you left behind. I remain Yours, Sincerely, Anne Rassine