Ruth Colville wrote to McKinley (Mac) Austin in April 1917. Ruth was from Barryville. Ruth wrote again in February of 1918.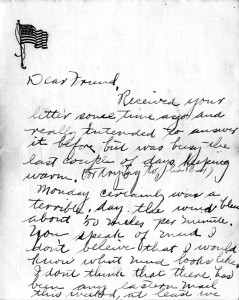 Ruth Colville, Barryville, N.Y., to McKinley Austin
February 7, 1918
Dear friend McKinley,
Received your letter some time ago and really intended to answer it before, but was busy the last couple of days keeping warm (or trying to, ha ha).
Monday certainly was a terrible day. The wind blew about 50 miles per minute. You speak of mud. I don't believe that I would know what mud looks like.
Aunt Norah [Norah Bradley Avery] said that there were several Sundays when there wasn't anyone except the minister and Christine that ventured out to church.
Every cold day, I make a new vow that I will not stay here another winter, but I suppose that I will not have courage when it comes to the pinch, to get a job.
Belle Mills is teaching here now. Went to visit the school the other day with Anna and it surely was a circus. I never saw so many methods of "spit ball" throwing in my life, but well, I guess she is about as good as the average teacher.
Your friend, Ruth [Colville]
Anne Rassine, Astoria, Ore., to McKinley Austin
Anne Rassine, a Lone Scout Correspondent wrote Mac on February 8. Anne mentioned the S.S. Tuscania which had been torpedoed on February 5. Click to read Anne's letter.