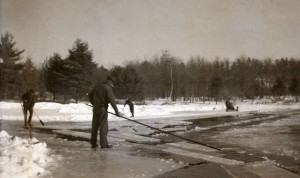 February 1932
"The Japanese and Chinese are fighting," Ella wrote on February 1 and 6.
What little snow was on the ground was gone by the end of the first week of February.
Bill Meyers Jr. stopped by a few evenings the second week, perhaps to see Anna. Clara Leavenworth went to a bridal shower for Bill's sister Dorothy.
On a clear, warm day, in mid-February, Jim played with Carl Dunlap. Garfield started porch screens and did a little work for John Love. Grant Sergeant stopped by for supper and the evening. He was joined by Bill Meyers.
Garfield made Ella a flower stand and started on a table. Clinton and Garfield worked at the Scouts cutting ice for four days.
At the end of the month, Clinton and Herm Bosch went fishing at Montgomery Lake. [Montgomery Lake was close to the Leavenworths. Bosch Pond was on east side of Eldred.]