Civil War Names in Highland
Enlistments
Aunt Sal
Goose Lot and Stone Walls
Four Trees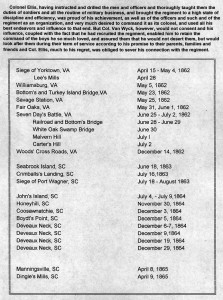 Yorktown, December 11, 1862
Dear Brother,
On the 11th, early in the morning we fell in line and was marched off with packed knapsacks. We were marched to Gloster County and when we were there, marched 15 miles to Gloster Court House where we camped.
We went there with the calculations of fighting rebels, but they had run. I went on picket the same night. It was cold as the deuce and the officer that was officer of the guard put us under cover of a fence as much as he could so we would not be so apt to get fired at.
We laid close and kept a sharp look out. There was a picket shot and killed on post. The next morning we came off of picket.
The general gave orders for a detail to be made out of each regiment to go and forage. They went out in the country taking every horse, pig, sheep, ox, they could find. Also searched the houses taking all the guns powder and lead, whiskey, cider and so forth.
They did not get orders to take fowls, but they did not wait for the orders and I guess the general did not care much…
They told us that they did not see how we dare come so far out with out arms as there was rebels in the swamps right below the farm, so we began to make our way to camp, for if they should get us, they would cut our throats in a minute.
We got to camp about noon. Then we went out on a foraging party…
We got paid yesterday. I sent $35 in an express envelope to father last night. I wish he would let mother have $10 of it.
Write as soon as you get this and let me know if you got the money and if you are all well or not. Write all the news. Write a good long answer. Excuse poor spelling, bad writing, as this is wrote with a rebel pen. No more at present.
S.S. Leavenworth