George W. Eldred, friend of Sherman S. and cousin to the Eldred-Austin families was discharged from service in the Civil War due to illness.
In December of 1864, George W. Eldred married Miss Marietta A. West, daughter of Samuel and Mary West. The ceremony was performed by Felix Kyte at her parents' home in Beaver Brook, New York. The new couple lived at Beaver Brook, and then at the Village where George was a farmer.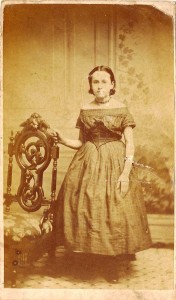 New York City, December 18, 1864
Dear Cousin Emma,
At last I have seated myself to write to you the long promised letter, although I am almost ashamed to for I have put it off so long.
I have not been to my much loved school for the past week as I am suffering very much with a bad cold in my head.
Our esteemed and most worthy cousin G.E. [George Eldred] has at last stepped into the blissful bonds of matrimony, etc. Congratulate him for me.
Well Emogene, how is that teacher? Have you got any thumps on the nose like the one I received when I was there?
How I wish I had a monstrous piece of pumpkin pie. Do you make it as good as ever?
Is Retta [Henrietta] as fond of feeding the pigs as ever and has Maria gotten stung by any more hornets?
How is Grandmother [Hannah Eldred] and cucumbers getting along? Does she eat as many as ever?
Tell Aunt Mary I am getting very thin for the want of a good dish of string beans and tell Grandmother I have at last learned to like applesauce and apple puddings and if she will only come and see us, I will make her an apple pudding everyday.
But I guess you are getting tired of reading such nonsense and as I have another letter yet to write, I will bring this to a close.
My love to all is the closing sentence of your loving Cousin's letter. Tina