Sherman Leavenworth must have requested information on the death of his brother Atwell Leavenworth, who had died November 13, 1864. Their brother Hezekiah Leavenworth died April 26, 1865. Four Trees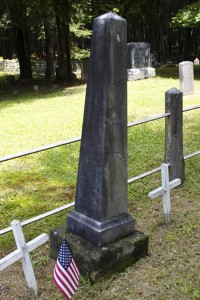 Folly Island, South Carolina, December 19, 1864
Dear Sir,
I hasten to answer your communication of November 23rd. In explanation why I have not answered it before, I will state that I have been on picket duty constantly for the last three weeks, and consequently, having no facilities for writing.
In answer to the question "how Atwell felt about dying," I can't say but little, from the fact that I can't find as anyone spoke with him on the subject except myself.
Perhaps I ought to state that the nurses employed in the hospital at the time have all gone to the front at present to take care of the sick and wounded. For you will probably learn before this reaches you that most of the forces in this department have gone to meet Sherman.
Whenever I spoke to Atwell about the probabilities of his not recovering, his answer would be something like this.
"Well, I should like to live to see this rebellion put down, but if it is otherwise ordered, I don't know but what I feel perfectly reconciled. I am not afraid to die. I feel that I am laying down my life in a just cause."
He always conducted himself with strict propriety, and refused peremptorily to join any of his companions in any of the follies of camp life, he was a good soldier, and one that was respected by all who made his acquaintance.
He was buried with military honors, and a large number of the regiment attended his funeral. In regard to the removal of his body, I would think it impractical at present, from the fact there is really no one here that can make the proper arrangements.
If he was taken up at present, a metallic burial case would be needed, and that can't be had here. Perhaps it might be obtained at Hilton Head. His grave is marked by a nice headboard, with his name, letter of his company, and number of his regiment, so that any time for years to come his remains can be removed. They can be removed now, but it would be necessary for someone to come here on purpose and accompany the remains home.
I learned that one of his brothers from the 56th Regiment was here the day before he left for the front—making some inquiries in relation to the removal of his body, if he should return safe, he may make some arrangements to that effect.
I don't know that I can say anything more on this subject in answer to your inquiries. I deeply sympathize with the afflicted parents, and may this deep affliction be sanctified to their eternal welfare, is the prayer of
J.B. Simmons
Co. E, 54 Regiment N.Y.V.
Folly Island, South Carolina