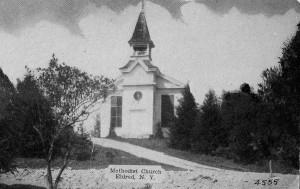 January 1941
February 1941
March 1941
March 1 (Saturday) came in like a cold, blustery lion. Lon went up to Herman Bosch's in the morning to see about wood for the church. Then he was down to the Village.
Monday Aida went to the Village twice. She went back a second time to take Bertha Sullivan's apples to her. Mary Bosch drove by just as Aida passed Paul Knorr's place. So Aida went to Barryville with Mary.
Tuesday it was too cold and windy for Aida to wash. Wednesday was still cold and windy. But the bright sunshine encouraged Aida to do some wash.
Thursday morning Lon went to the Village for the mail. Aida had a letter from Emma Waidler, Rowlee's sister. Aida walked to the Village a little after noon for bread.
Friday afternoon Herman and his son Bob stopped by Aida's and trimmed an apple tree for her. Saturday, "it commenced snowing again."
The snow was quite deep Sunday morning in Eldred. Aida brushed out the paths before Lon went to Sunday School. Lon was up to Mary Bosch's for milk on Monday, March 10. When he got back he went to the Village.
Tuesday Aida walked to the A&P about noon. It snowed more that night, so on Wednesday Aida brushed out the paths again. Lon got his hair cut Thursday. He rode home with a fruit man and bought some apples from him.
Sunday morning, March 16, Dr. Austin was in to see Aida a few minutes. Lon had gone to church.
Tuesday morning was very cold and windy. Aida went to 
the Village. Aida thought Wednesday "was the coldest and windiest day we have ever had."
Thursday was warmer. Aida met Rowlee near the Collin's place, and he gave her a ride to Mae's. Mae and Ruth were going to Port Jervis and took Aida with them, so Aida didn't get to the Village on Thursday. Lon went at noon on Friday for bread.
Saturday Aida purchased oil on her daily trek to the Village. Sunday morning, March 23, Lon went to Sunday School and Church. Arthur visited his aunt Aida for a few minutes in the afternoon.
Lon walked to the Village late Monday afternoon. Tuesday morning Aida went to the A&P. Herman Jr. trimmed the trees in the afternoon, but not on Wednesday when it was cold. Thursday was much warmer. Herman Jr. trimmed the trees.
Sunday night Arthur went to church and drove Lon home afterwards. Monday Lon walked 
to the Village to get butter.—excerpt from Farewell to Eldred, pp. 227–9.