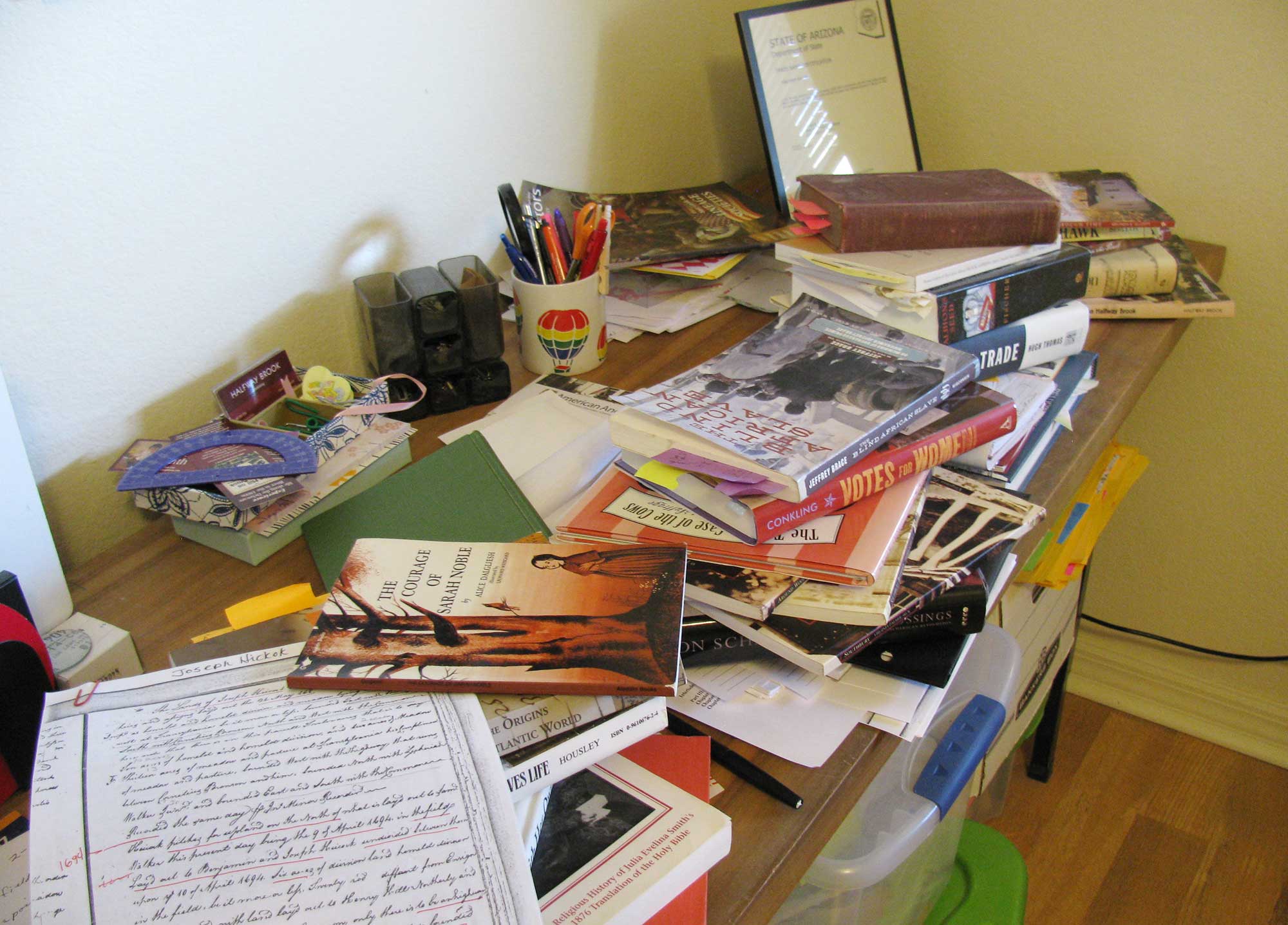 After publishing Farewell to Eldred in 2013, I took a year off from writing. Since 2014, through broken leg, cataract surgery, dental appointments, arrival of two (of five) grandchildren three weeks (1,000 miles) apart, various other adventures, and life in general, I have continued to research and work on a book about my Hickok ancestors. (I discovered that both my Hickok and Leavenworth ancestors were in Ancient Woodbury, Connecticut, in the 1680s.)
Now called Abby, Laurilla, and Mary Ann, I am continuing to work on the final text before giving it to Gary for his professional design expertise.
Abby, Laurilla, and Mary Ann is a collection of glimpses into the Hickok ancestry, heritage, and legacy of Abby and Laurilla Smith, their three sisters and their second cousin Mary Ann Eldred Austin.

Abby Hadassah Smith was the youngest of five well educated and talented sisters with unusual names. The five sisters, daughters of Zephaniah Hollister Smith and Hannah Hickok Smith, their gifted mother, were brought up to think more of their mother Hannah's relatives than their father's.

So in the summer of 1854 Abby and her sister Laurilla Smith, left their Glastenbury, Connecticut home to visit their mother's remaining Hickok first cousins. This included Hannah Hickok Eldred and her daughter Mary Ann Eldred Austin, in the Town of Highland, recently taken out of Lumberland, New York.

After the visit, Abby, who did not like to write letters, wrote Mary Ann Eldred Austin nine letters in the years 1854 to 1869. Shortly after writing the last letter, Abby and her sister Julia were faced with unfair taxes, which they could not fight, because they were women and women could not vote.

In the 1870s Abby and Julia (in their 70s and 80s) made national news. Using the same reasoning and knowledge of history and the Bible that they used in their fight against slavery, the sisters wrote letters to newspaper editors, lectured the town men, and appealed to the Connecticut and national legislatures for the right for women to vote and have equality with men.

Their speeches referred to events beginning in 1630s Old and New England when many of their first ancestors, including the Hickoks arrived in what would become the state of Connecticut, in the United States of America.
I have added some of the books I have used as resources shown in the above photo.
Some of the books:
Brace, Jeffrey (as told to Benjamin F. Prentiss), The Blind African Slave, or Memoirs of Boyrereau Brinch, Nicknamed Jeffrey Brace, Kari J. Winter, ed., University of Wisconsin Press, 2004
Berleth, Richard, Bloody Mohawk, The French and Indian War & American Revolution on New York's Frontier, Black Dome Press, 2010
Bickford, Christopher P., Farmington in Connecticut, Phoenix Publishing: Canaan, NH, 1982
Conkling, Winifred, Votes for Women! American Suffragists and the Battle for the Ballot, Algonquin Young Readers, 2018
Dalgliesh, Alice, The Courage of Sarah Noble, Adaddin Books, Macmillan Publishing Company, NY, 1954
Elliott, Melinda K., Connecticut Schoolhouses Through Time, Fonthill Media, Arcadia Publishing, England, 2017
Fischer, David Hackett, Albion's Seed, Four British Folkways in America, NY: Oxford University Press, 1989
Games, Alison, Migration and the Origins of the English Atlantic World, Harvard University Press; Cambridge, Massachusetts, 2001
Harmon, Edith Andrews, Pioneer Settlers of Troy Grove, Illinois (Hickok, Andrews, others); Another Man Named Hickok (Two Volumes combined) reprinted by the Anundsen Publishing Co., Decorah, Iowa, 1973
Housley, Kathleen L., The Letter Kills but the Spirit Gives Life, The Historical Society of Glastonbury, 1993
Montgomery, D. H., The Leading Facts of American History, Ginn & Company, Boston, 1899 (This was McKinley Austin's book recently given to me.
Schama, Simon, Rough Crossings: Britain, the Slaves, and the American Revolution, HarperCollins, NY, 2006
Shaw, Susan J., Ph.D, A Religious History of Julia Evelina Smith's 1876 Translation of the Holy Bible, Multiple Ministries Press, Newburgh, IN, 1993
Smith Julia E., Abby Smith and her Cows, with a Report of the Law Case decided contrary to law, Hartford, Conn., 1877; Reprint Edition, Arno Press Inc., NY, 1972.
Thomas, Hugh, The Slave Trade, The Story of the Atlantic Slave Trade: 1440–1870; Simon & Schuster, NY, 1997
168? Woodbury land deed of Joseph Hickok
and of course,
Smith, Louise E. The Mill on Halfway Brook