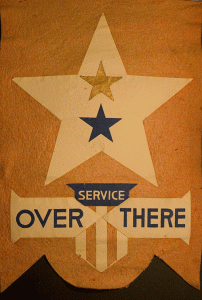 It was a custom of families of servicemen to hang a service Flag in the window of their homes. The Service Flag had a star for each family member in the military.
Living servicemen were represented by a blue star, and those who had lost their lives were prepresented by a gold star.
This is the Austin flag with a gold star because of McKinley's death, and a blue star for their son Raymond who also served during World War I.
The body of private McKinley Austin, who died in France October 14, 1918, arrived at the home of his parents, Mr. and Mrs. C.M. Austin, in Eldred on Saturday from Hoboken, N.J.
Young Austin was 20 years old and enlisted in the 11th infantry of the Machine Gun Company, and was called to France in May of that year. The funeral was held at his home in Eldred at 1:30 o'clock on Wednesday. Rev. Mr. Ether, pastor of the Barryville M.E. Church, officiating.—News article, September 16, 1921.
It is curious as to who asked that McKinley's body be shipped back, as the family story had been that Aida Austin went over to France in 1923 specifically to bring the body back.
(Reposted from June 13, 2013.)
Remembering Town of Highland's WWI Soldiers