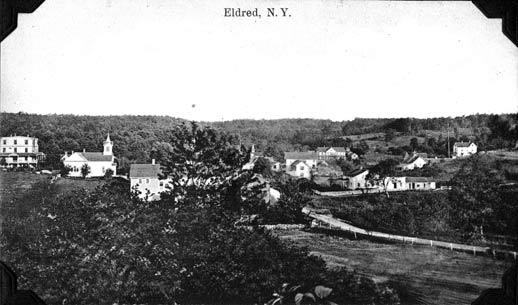 The next few posts will feature family postcards or photos of the village of Eldred, New York, where my Austin and Leavenworth relatives lived.
This first photo was in Great Aunt Aida Austin's photo album and looks to be a postcard. It is a view of Eldred looking west from the vicinity of Highland Lake and Proctor Roads.
For those of you who have read The Mill on Halfway Brook, the house on the right was that of C.C.P. Eldred, son of James and Polly Mulford Eldred. C.C.P. was the postmaster for a number of years.
On the far left is the home of Abel Sprague Myers and his second wife Maria Hankins. The house was a boarding house at one time and called Orchard Terrace. I don't know when the home was originally built.
Second from the left is the Congregational Church built in 1835.
The Methodist church, built in 1859, is in the distance and has a steeple on it. I have read that there was no steeple on the Methodist or the Congregational Church until after 1900.
However, in my great-grandmother Mary Ann Austin's 1879 letter, she mentioned they were to have put the steeple up in July of that year. I don't know whether that happened or not.
I do have two photos that will be in book two of the churches with no steeples.
If you have more information on any of these Eldred photos, please feel free to leave a comment on this site or contact me by email:
info at halfwaybrook dot com