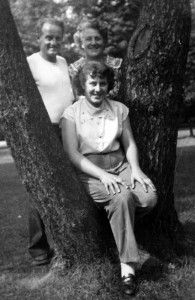 Note: Alfred and Bessie Hill were good friends of the Austins. Art boarded with them when he came home after the War. The photos of Alfred and Bessie and their daughter Joan shown here are from the summer of 1949.
May 1941
Friday, May 2, there was quite a frost in the evening, but Aida didn't think it hurt the fruit. Emily and Howard Stevens were up for watercress Saturday evening.
Sunday morning, May 4, Lon took charge of the service because Mr. Briggs was at a conference.
Rowlee visited Aida about noon to give back her book and get some watercress. Arthur was there a few minutes in the afternoon. The Austin brothers had sold The Pines (both their parents had died) and wanted to store some items at Aida's.
Tuesday morning Aida walked to the A&P. Lon discussed storage options with Arthur.
Saturday afternoon Aida walked to the Eldred Cemetery and then over to see Emily Schoonover. Rowlee was working in his shop.
Sunday, May 11, it was cold all day. Edith Parker was up to Aida's in the morning for some watercress.
Bessie and Alfred took Lon and Arthur home after church. Late afternoon Arthur and Alfred drove some of the Austin belongings to Aida's, and put them in an upstairs room.
Tuesday morning Aida took her daily trek to the A&P. Continue reading →