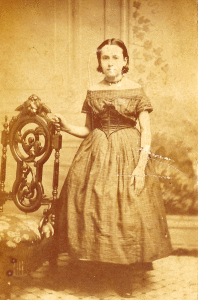 The Letters of Chester Beers to Emma Austin, 1869–1878
Emma Austin continued to write to Chester. They correspondeded off and on through 1878. Even though the Civil War had been ended only thee years in November 1868, there is no mention of it in the letters.
Except for one letter Emma requested to be returned, we read only one-side of the correspondence, and can only guess at what Emma wrote to Chester.
Along with updates on the current teacher and Chester's former pupils and some snide comments, Chester and Emma taunt and tease each other, sparring with words and phrases about a photo exchange and hair curls.
Emma seems conflicted about Chester. She doesn't agree with him on some issues and wants him to say things a certain way when he writes her.
Chester, who often included poems or poetic-like description of the seasons in his letters, tried to clarify and correct Emma's sometimes conflicting thoughts and actions.
Chester and Emma's banter is somewhat reminiscent of Darcy and Elizabeth in Pride and Prejudice. Their correspondence, however, ends much differently than Jane Austen's novel.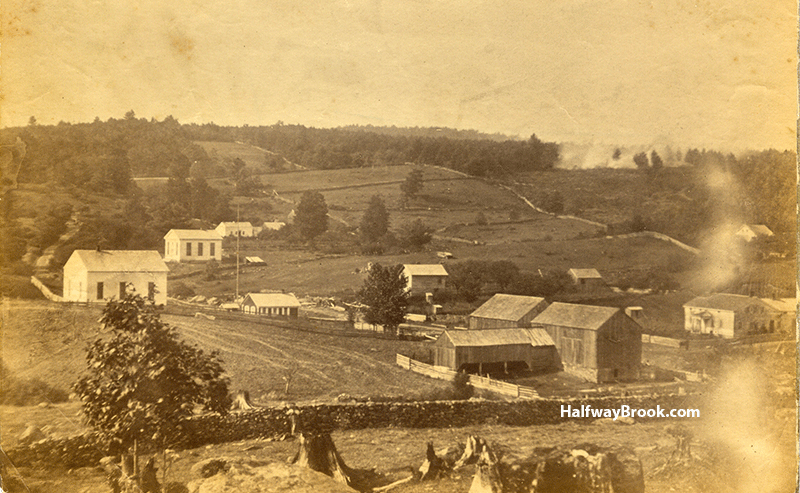 Halfway Brook Village in 1868
Halfway Brook Village of 1868 was much different than in 1900 when more postcards and photos were available. Neither Church had a steeple. The Methodist Church was not even ten years old.
The Congregational Church is on the left and the Methodist is the next white building in the photo above (year unknown). Halfway Brook flows on the other side of the stone wall.
I was told that the barns belonged to the Eldreds. The house on the right belonged to Emma's uncle C.C.P. Eldred and his wife Effa. Their children Rebecca, Adda, and Jane were mentioned in Chester's letters.
Is that little building near the Congregational Church the schoolhouse? In later letters to her mother Mary Ann, Emma has nothing good to say about that school building.
Previous Posts
1. Is that the New Teacher?
2. The Math Tutor