I am revisiting the year 1932 from the Diary of Ella Sergeant Leavenworth from "Farewell to Eldred;" and adding the months that I did not initially include.
October through December 1931

January 1932
Busy times at Ella and Garfield's home on the first day of 1932. Garfield helped Ken Crandall. The girls went skating; the boys went after bait fish. Dorothy Meyers was there for dinner.
Garfield cleaned the ice house for the Scout Camp the second week of January. Clinton went hunting, but Anna, a senior, and Jim, 10, were still in school.
Mid-January was very unseasonable weather—"75 degrees in the shade." They had yet to have some cold weather. Garfield remodeled the pantry.
Harold (Bud) Myers was hurt in an automobile accident and died the next day. Harold, the son of Charles Cripps Myers and his first wife Lena Schoonmaker, died three months before he turned 25. His half sister Eleanor was 12.
Charles Myers, Harold's father, was a cousin to Jennie Austin and Garfield Leavenworth.
The funeral of Harold C. Myers was conducted Wednesday afternoon at the home of Mr. and Mrs. John Love of Eldred by the Rev. J.J. Wade. Pallbearers were Stanley Myers, Alvin Hill, Walter McBride, Hugh Myers, Lynn Myers, and Oliver Dunlap. Flower bearers were Archie Von Ohlen, Forrest Wilson, Orville Myers, Clifford Crandall, Alfred Hill, and Stanley Crandall. Buried in Eldred Cemetery.—Middletown Times Herald.
Snow squalls threatened on Friday, the 25th. Saturday was colder, but still beautiful, clear and warm. No snow had stuck to the ground yet.
Paul Knorr was busy at the Leavenworth home at the end of the month. He fixed the door bell and buzzer, put in sidelights, two plugs, and finished the wiring.
Kate Love, and Alvah and Mary Sergeant stopped by to see the Leavenworths.
The last day of the month, Clinton and Jim headed to Port Jervis to get a radio fixed. The international news was not good.—pp. 118 and 120.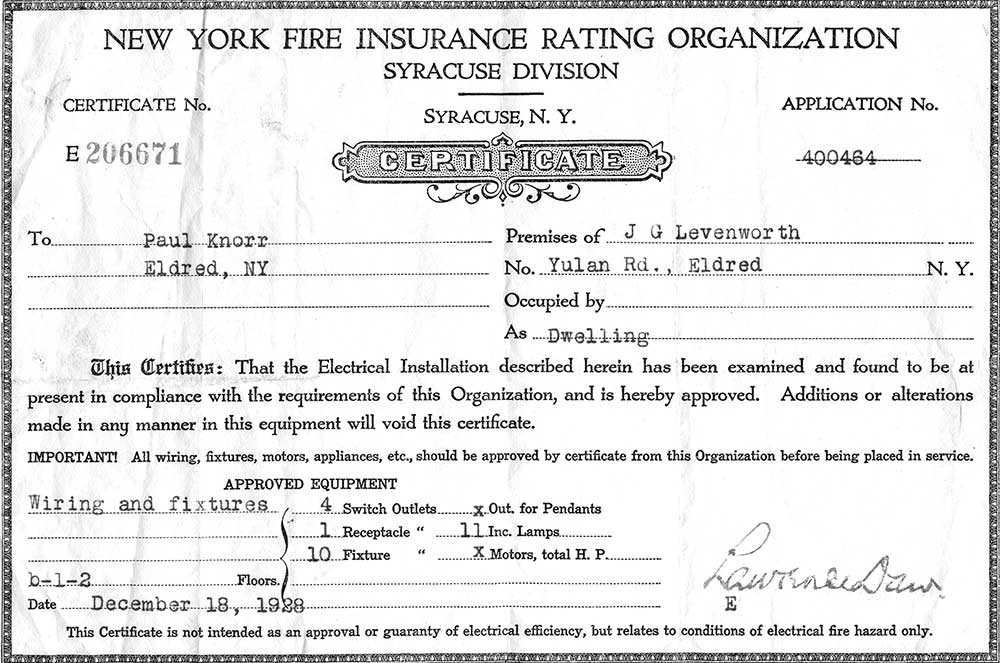 1932 World and National News
• Japan occupied Manchuria.
• Nazi party largest single party in the German Reichstag (parliament).
• 12 million unemployed.
• Aldous Huxley's Brave New World.