Chester's December 31, 1869 letter continues
I wish you a happy New Year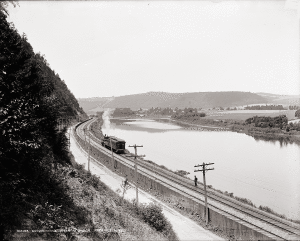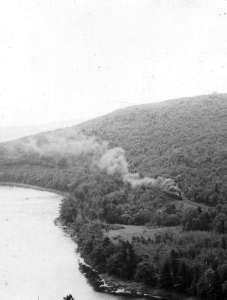 'Tis New Year's day my thoughts go back
To Lumberland's unbeaten track.
If I could go where doth my mind
Or even as the listless rime?
At Halfway Brook I'd be again,
I would not wait for Erie's train
Nor in a coach I would not ride
But o'er the hills, I'd make a stride.
But as it is I cannot tell
When I shall see your village dell.
It may be years yet only one
It may be when my school is done.
Now when you write give all the news.
Write anything that you may choose.
About the boys about the girls
And if you wish about your curls.
That picture which you saw is gone
But then I have another one.
I send it forth. It may suffice,
View it with care, don't harm your eyes.
The artist's done his best I think
He said that I might gently wink
And on a piece of tin he drew
The likeness which I send to you.
Yours etc.
Image: Erie RR at Susquehanna River and Owego Narrows, N.Y. Glass Negative, Detroit Publishing Co., 1900. Library of Congress Prints and Photographs Division: 4a07757.
Previous Posts
1. Is that the New Teacher?
2. The Math Tutor
3. Chester Beers to Friend Emma, Correspondence Continues
4. What is the News? October 29, 1869
5. The Merry Laugh of the Village School
6. Teaching Advice in a Poem